CES Reports: Black Diamond's Switchback UMPC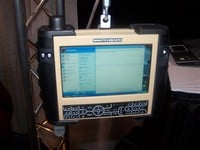 We were all anxious to find and talk to the folks at Black Diamond about their ruggedized Ultra-Mobile PC, the Switchback. The wait was worth it. Dennis and I were able to get our hands on these units (a very clever display where they had some of the suspended from chains dangling in the air), and also film a video interview which we'll be posting up shortly. I have never had the opportunity to hold a ruggedized anything in my hand until this CES, and let me tell you, in
my opinion the Switchback is an amazing device to hold.
What is really intriguing about Black Diamond's vision is in the name of the unit. They build modules that allow you to switch out the back of the unit depending on the job or task you wish to perform.
Some of the examples we talked about included bar code readers, breathalyzer, military options (he had an attachment that could be
used to manipulate unmanned drones from the field) and others.
This was one of the most impressive units I saw at CES. Black Diamond has their act together and is positioning themselves to be very responsive to a lot of different markets. A lot of our focus here at GBM, as well as our readers, is on the consumer and enthusiast side, and Black Diamond is a great example of how the UMPC can really work in different business, military, and job specific roles. Watch for that video InkShow soon.

As an Amazon Associate I earn from qualifying purchases.