CES Reports: Thoughts From Warner

While we've still got a few CES Inkshows to roll out, here are some thoughts after a few days digesting what I saw and experienced at CES.
The things that impressed me the most:
The Toshiba Wireless Port Replicator was the most impressive piece of new hardware I saw the entire conference. I hope others follow
Toshiba's lead here and soon. Being able to set your Tablet PC on your desk and have it connect to a 2nd monitor, or any USB device wirelessly could be a real boon. And if there is any doubt that media is what everybody is thinking about, the fact that the wireless dock is optimized for streaming media and the reps actually recommend moving large files through a USB connection should tell you something.
The Origami Experience software is more than a new launcher for Ultra-Mobile PCs. For UMPCs that support Vista it is a very impressive media manipulator. I was very impressed by all facets of this. Given that one of the reasons I purchased the Asus R2H was for playing media on the go, this looks like a real winner from my perspective.
Black Diamond's Switchback Ultra-Mobile PCs. No, I'm not in the market for a ruggedized UMPC. Black Diamond impressed me quite a bit with their approach of creating modules for their respective clients' needs. I've said it once, I'll say it again. These guys have their act together. It also points to what I think the real future of the UMPC may be: targeted at specific markets. In addition some of the concept UMPCs in the Intel booth were aimed at the education and navigation markets. I think we'll see more and more of that in the future.
Tablet PC Hardware:
I got to personally see four Tablet PCs. The Toshiba R400, the HP TX1000, the TabletKiosk Sahara, and the LG XNote C1. All are interesting devices. All have features to recommend them. All raise interesting questions.
The Toshiba R400 is targeted at the high end of the market and looks like quite different with the piano white finish. Like most units we saw it is a Core Duo unit, (more on that later) and the unit I got to work with appeared quite snappy. That said the processor is on the low end of the Core Duo range at 1.20GHz. The 4200RPM hard drive also seems to be a pokey choice in today's market. That said, the Tablet offers some unique features. The LED Screen actually contains a series of small backlights that really make it stand out. The Edge Display, I can see coming in quite handy. I've already mentioned the wireless port replicator above. Let's hope that is the first of many.
The HP TX1000, isn't something I'm excited about. I see it selling well given its consumer focus and lower price point ($1200 range), but I found the Tablet PC too heavy. The units we were able to work with both had heat issues. (Remember these may not be shipping units that we saw.) The TX1000 is more focused on touch than on using a stylus (in and of itself not a bad thing) but that said, we already have touch systems available that have much better inking experiences with a stylus for my tastes. And I do have to say, when the Tablet PC screen is swung around in slate mode, the screen sure does bring back memories of the TC1100.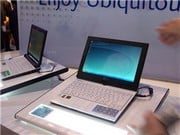 The LG XNote C1 looks to be a very interesting Tablet PC as well. (We should be posting and Inkshow of that up sometime soon.) Like Toshiba, it has that piano white finish on parts of the case, this time the keyboard. (I'm sensing a trend here.) Again, we are looking at a widescreen display, this time with a 10.6 inch screen and this smaller size helps target it at those where smaller size really matters. It is light. That said, it also felt a bit flimsy. The processor, like Toshiba it also runs a 1.20GHz chip, making me question that choice again. The LG rep said we can look for possible US availability later this year.
The TabletKiosk Sahara i440 looks to be a very, very impressive slate Tablet PC. I'm just going to say this. We passed one around the table for quite some time and this was the coolest (temperature-wise) Tablet PC I've ever held in my hands. I like the different approach to multi-touch (using a button to turn touch off/on) and like Rob, I think this is an excellent design choice. While TabletKiosk has been in the slate market for some time. I think they are going to become a major player there with this new model.
UMPC Hardware:
Ok, just about everything small is using the Ultra-Mobile PC label these days. I got to go hands on with the OQO Model 02, the Medion, TabletKiosk's ToughTab, Azentek's new ruggedized unit (still under development), and the Switchback. The OQO and the Medion grabbed the lion's share of the attention at CES and they are two very different devices. The OQO has an active digitizer (no touch) and the Medion is touch and has that larger split keyboard that I think makes so much sense. Forgetting ruggedized solutions here, the one thing (as mentioned in this post) that will keep these very cool devices from taking off is the price point.
Other Items of Interest:
TabletKiosk is developing an impressive array of cases and accessories for their UMPC line. A very nice bump case and an even nice flip case. They are also working on a Linux install option and have released a portable battery solution, the Powerbank MP3400 Universal Battery Pack.
Cars, cars, cars. Yes, you see a lot of cars and add ons for cars at CES. UMPCs are a natural here and several folks we talked to have more than their eye trained that way.
General Impressions:
Beyond the price point issue, I think the UMPC is making strides, but still is aways off from any sort of general acceptance, if that is something that will ever come to be. As I said earlier, perhaps the long term for the UMPC is in specific markets. But then that, in many ways defeats the attempt of making these a consumer device as you have to develop some mass market acceptance for that price to come down. The beauty of this of course comes back to choice and we are starting to see more of them, although not as many as I would like. On the UMPC front, I think there is another big competitor as well, mobile smart phones, iPhones, and other converged devices. With the move to play media on these devices turning into an ever quickening race, UMPCs face some stiff competition there as well. We're moving, I'm just not sure how fast or to where.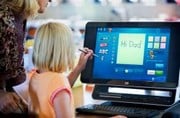 Touch is the name of the game. HP's TouchSmart Computer is amazing to look at and offers a range of media features all accessible by touch. For the life of me I can't figure out where I'd put it in my house (HP suggests the kitchen but I'd have to build a new one or it would at least have to grind the coffee beans too.) But the TouchSmart Computer, along with UMPCs, and other devices using touch, point a very distinctive finger towards a future that includes touchscreens. Of course, so does that iPhone. (Sidenote: I wonder if all of those media pundits who jumped all over the first generations of UMPCs for not having a keyboard will notice that the iPhone they are now drooling over doesn't have one?)
And if you read any coverage of CES you'll know that streaming media and mobile media are also the focus of most efforts at this point. Of course the battles to be fought over who controls all of money flow loom like darkening clouds over all of that. It is all about entertainment.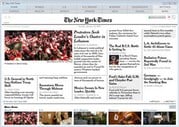 Oh, yeah, that Vista thing. It is coming. It is going to get plenty of hype, and plenty of knockdowns (as if it hasn't already.) As an OS, I like it. What Vista will really mean, I don't think we'll know for some time to come. Everything we see today that is ready to rock and roll with Vista, will be overshadowed a year from now anyway, or at least I hope so. The future is in the Windows Presentation Foundation and apps like the New York Times Reader. When we see applications really taking advantage of that engine, we'll see Vista begin to fulfill what promise it has.
Core Duo vs Core 2 Duo. The jury has returned on this for the moment. Manufactures of mobile devices would love to put in Core 2 Duo chips. But heat and battery life issues are keeping them relegated to the Core Duo. That will change. Maybe come Santa Rosa time. But for now, I think we'll be seeing our precious mobile devices containing Core Duo chips. I'm not saying that's a bad thing at all, just the reality of the moment.
Niche market or main stream? Yep, Tablet PCs and UMPCs are still a niche market to a large extent. Price points, poor marketing, and a still too complex experience from OOBE to inking keep it there for the time being. But I since a trend as these devcies begin to find entry into various markets such as education, the auto industry, navigation, various industries, and with artists. By the way, Toshiba gets high marks for once again having artist Rod Beasley on site in their booth sketching caricatures of visitors. Tablet PC and UMPC OEMS would better serve their case if they had similar demonstrations in their booths, so that those who haven't been exposed, could since some of that magic. As it is the majority of the current apporaches fall short, for the simple reason that many of the folks in the booths can't really demonstrate the features of the devices accurately, if at all in some cases. Parroting specs is one thing for those in the know, but really showing what potential a device offers is an entirely different experience.
On a personal note, this was a great experience. First time I've had the pleasure to play with other Tablet PC MVPs, attend CES for all the madness that it contains, and meet all of the GBM Team. I also got the privilege of being there when both Rob and Dennis crashed new devices in display booths. I got pranked by Rob when he snatched up my phone from a dinner table and almost gave me a heart attack when I couldn't find it. (Intriguingly Dennis' phone went missing from that same table shortly thereafter. Good news, he found it later after retracing his steps.) On that note about mobile devices, something I heard over and over on this trip, in the midst of seeing so many different smart phones was the number of folks who were thinking about, or already had gone back to, a regular phone. Is that a trend?

As an Amazon Associate I earn from qualifying purchases.