Cheap FIFA 15 Play Arrives with EA Access Service
Playing Electronic Arts' FIFA 15 football game is as cheap as it will ever be. This week the video game developer and published announced that FIFA 15 is now available to rent in EA Access, the Xbox One exclusive video game rental service that EA announced last year.
Beginning last night, anyone with an EA Access subscription service can download FIFA 15 from The Vault. Adding FIFA 15 to The Vault in EA Access means that users can download a digital copy of it and play on their console. An EA Access subscription costs just $30 a year or $5 a month, which isn't an insubstantial amount of money, but better than the $60 FIFA 15 cost users who purchased it on release day or the $51 an Xbox One version of the game costs today.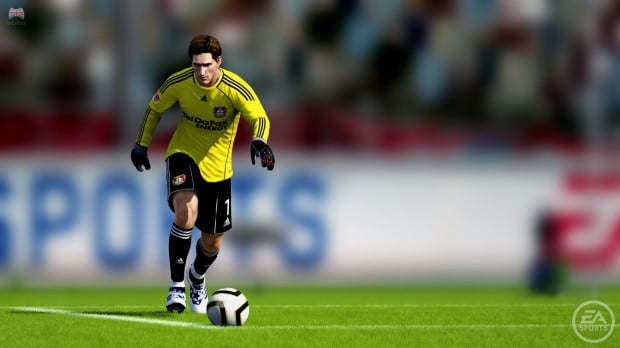 Read: Is EA Access Worth Buying?
Launched last year, FIFA 15's main claim to fame was a new Ultimate Team feature that allowed gamers to sign players for a trial run. It also introduced a new game mode where users could create their own team containing all of their favorite players. Like with its other sports titles, EA geared FIFA 15 towards fans who wanted a hyper realistic simulation of their favorite sport. Every player, every stadium, every graphic that appears on-screen will look familiar to FIFA league fans.
FIFA 15 joins an already impressive list of sports titles available through the EA Access subscription service. Battlefield 4, Madden NFL 25, FIFA 14, Peggle 2 and Need for Speed: Rivals were the games the service launched with. Since them, it has expanded to include Plants vs. Zombies: Garden Warfare, EA Sports UFC 2014, NBA Live 15, Madden NFL 15 and NHL 15. The only sports title missing from the subscription service now is PGA Tour, which is in the midst of a reboot after dropping Tiger Woods.
Read: FIFA 15 Review
When users sign up for EA Access, they aren't just getting a single download for that $5, but Xbox One downloads of every single game in The Vault. When users stop paying for EA Access, the games does stop working. At that point user are free to buy a digital copy of the game at a discount before their subscription lapses and keep their game save. Users can also buy a physical copy of the game to use with their game save too. Besides free digital downloads from The Vault and digital download discounts, EA Access subscribers also get trials of new releases before they're available anywhere else. The trials aren't unlimited in most cases, lasting just six hours total. The game saves from these early access events also work with the final version of the game, giving EA Access subscribers a head start on other players.
EA Access is a big reason to get an Xbox One over Sony's PS4 video game console. When Electronic Arts announced the subscription service last year, many were upset that they didn't have access to the service on PS4, thinking it was a deliberate attempt by Microsoft to shore up sales of its console. As it turns out, Sony refused to work with Electronic Arts on EA Access because it felt EA Access didn't offer "good value." Whether that's genuinely true or not remains up for debate since digital game rental services are a relatively new concept. It is worth noting that Sony offers its own PlayStation Now video game rental service. Earlier this year, it introduced a flat $20 fee for access to its entire catalogue of PlayStation Now games. Whereas EA Access forces users to download digital titles, PlayStation Now titles are actually running on services at Sony headquarters. Footage from them is then beamed directly to the users console.
There's no word on what Electronic Arts may add to EA Access next. The video game developer has already apparently begun work on FIFA 16, it's next major European football title.

This article may contain affiliate links. Click here for more details.