Cheap iPhone 5 Lightning to 30-pin Converters Appear on Amazon
When Apple announced the iPhone 5 last week it also debuted a few expensive adapters to connect the new Lightning-port to 30-pin cables and accessories. Some third-party companies already have their own cheaper adapters for users who don't want to buy Apple's $29 or $39 adapters.
According to 9To5Mac a few companies already have third-party Lightning adapters available on Amazon.com. The adapters start at $10, or about a third of the price of Apple's least expensive adapter. The adapters come from Nanotch and iTronz.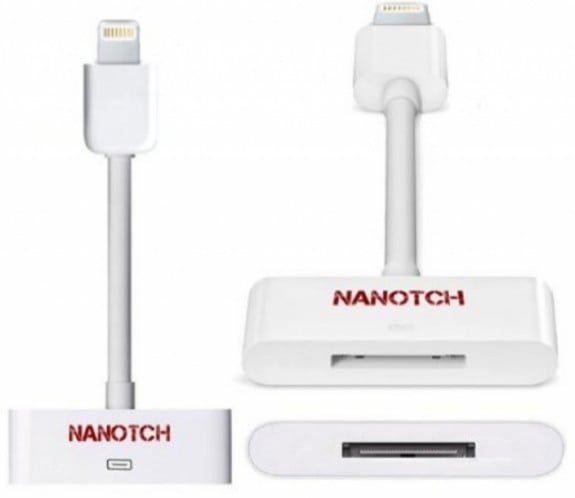 Nanotch sells an adapter cable on Amazon for $10. The cable looks very similar to Apple's, and should theoretically perform the same functions at a fraction of the cost. Nanotch's cable is 20cm long, the same length as Apple's cable. The only difference between the two that we see is Nanotch's 30-pin connector end is much thicker than the one Apple sells.
While Nanotch has a cable iTronz has a third-party version of the Lightning to 30-pin adapter with no cable. The iTronz adapter looks very similar to Apple's adapter with an iTronz's logo (if you can call it a logo) just beneath the Lightning port. It sells for $9.99 on Amazon.
While these third-party adapters are less expensive, we can't recommend them. Third-party adapters aren't always the most reliable. Companies we never heard are less likely to make sturdy, reliable adapters that won't break down or stop working shortly after they arrive.
After spending at least $200 on the iPhone 5, the $29 or $39 for Apple's official adapters isn't all that much to make the new phone work with old accessories.

As an Amazon Associate I earn from qualifying purchases.