Cheap iPhones Are No Longer in Apple's Future
With the iPhone 5c, Apple became a company that no longer offered just high-end flagship products, but it seems that was a one-time thing and Apple doesn't plan on making cheaper products ever again.
Apple's product marketing executive, Greg Joswiak, said that consumers shouldn't expect to see lower-cost Apple products any time soon, and that includes cheap iPhones and Macs. Many people have said that Apple should make a cheap iPhone in order to compete with Android, but that doesn't seem to be an issue for Apple.
It seems that Apple made that mistake before, with Joswiak reminiscing about the older days of Apple and how they attempted to make cheaper products:
Backstage, we were talking about some of the mistakes Apple made in the '90s, and some of it was trying to do things like making cheap products that were chasing market share instead of chasing a better experience. You make that mistake once in your life, you're not going to make it twice."
Of course, Apple doesn't see its recent iPhone 5c as a cheaper product, but retailers sure turned it into one, with all sorts of sales that marked down the device to extremely low prices.
Before it was announced, the iPhone 5c was rumored to be a low-cost phone that more people could afford. It was going to be Apple's entrance into the budget device market in order to compete with low-cost Android devices, and hopefully get those who originally passed on the iPhone back on train, thanks to the lower price.
However, it didn't quite turn out that way. While you could get the new phone for just $99 on-contract on launch day, its off-contract price of $550 wasn't that attractive, especially considering that Google was selling the Nexus 4 off-contract for a mere $299 at the time.
We first saw iPhone 5c deals creep below $50 and eventually some retailers chopped off the price entirely, allowing you to grab the iPhone 5c for $0 after signing a two-year contract.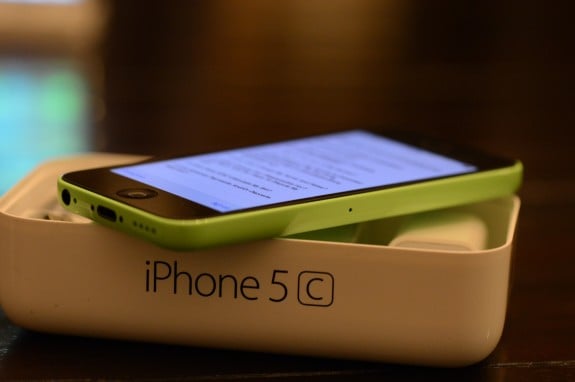 Apple seems okay with that, though, but it looks like that won't persuade them to continue building cheaper products, as they're more focused on creating the best user experience rather than owning the most market share:
Our goal is to make the best products with the best experience. And we're trying to make sure that we are delivering on that, and by and large we do. Our customer satisfaction rate is higher than anybody's. We have no shortage of either developers or customers … maybe it is naïve, but we [believe] that if we make a better product and a better experience, that there will always be a healthy market for that. And a healthy market doesn't mean we have to be market-share leader."
Then again, the MacBook Air is one device that has seen a gradual decline in price, now starting at only $899, which is the cheapest a MacBook has ever been. Apple will probably stick with that price for a while, so don't get too hopeful that we'll see an even cheaper MacBook any time soon, but the company is definitely getting better at offering some of its products at lower prices at least.

This article may contain affiliate links. Click here for more details.