Cheap Lumia 520 Bundle Is The Ultimate iPod Competitor
Microsoft may not make its own direct competitor to Apple's iPod line any more, but that isn't stopping the company from offering the best deal lovers of music-only devices have ever seen. As of now, Microsoft Store shoppers can bundle a year of Xbox Music with the Nokia Lumia 520 or Lumia 521 for less than the cost of an iPod touch.
Microsoft began offering the deal directly to users on its website yesterday, and the company isn't including any unfair gimmicks or weird contract pricing in the deal either. Instead, Microsoft is simply bundling a 12-month subscription to its Xbox Music service and giving buyers a choice of a free Nokia Lumia 521 or Nokia Lumia 520 for $99. By comparison a new Lumia 521 or 520 would cost a user around $60 normally. Buying a year of Xbox Music would normally cost $99 on its own.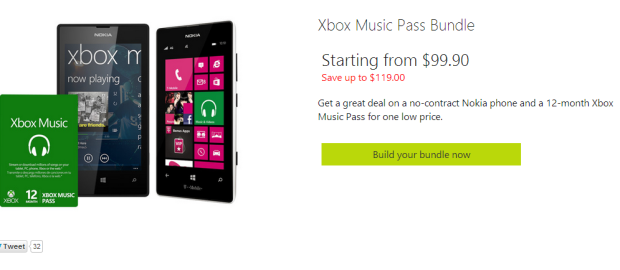 xbox musi
Read: Nokia Continues to Hammer Low-End, Announces Lumia 520 on AT&T
To be clear, the Lumia 521 and Lumia 520 are roughly the same device. The difference is that the Lumia 520 has been customized for use on AT&T. The Lumia 520 is meant for users on T-Mobile.  The best part of this deal is that they're both contract free. As such, users are free to never put in their SIM cards and use them as replacements for music players or to supplement their high-end smartphone.
A rival iPod touch with 16GB of storage costs $229. Users who wanted more storage would need to pay $299 for an iPod touch with 32GB of storage or $399 for an iPod touch with 64GB of storage.
By comparison the Lumia 520 includes a 5-megapixel rear-facing camera, a 4-inch display and 8GB of storage. Users can add more storage to the Lumia 521 and Lumia 520 through a built-in MicroSD card slot. As they're both low-end smartphones, there's also support for AT&T and T-Mobile's wireless networks. That means that users can watch Netflix, check email and stream music without first having to find a Wi-Fi connection if they choose to activate either device as a prepaid smartphone.
All told, it's definitely not a bad deal considering the value of Xbox Music. The service scans user's library and then automatically makes that music available to them in the cloud. It also features cloud music streaming, free music video playback and the option to store music on the device its self. This allows users catching a flight or going on long car rides to listen to their favorite music even if they aren't near an internet connection.
Read: Xbox Music Gets Offline Playback on iOS and Android
Xbox Music currently has applications on iPhone, Android, Windows Phone, Windows 8, Xbox 360, Xbox One and the web.