Cheap Star-Studded Blockbuster Movie Bundles Return to iTunes Store
It appears that Apple is cutting users a break. It's once again offering serious discounts on movies with its Build You Movie Collection promotion.
As of now Apple's offering users the opportunity not just pick up individual movies on the cheap but also entire movie series. Franchises discounted in the promotion include Harry Potter, The Lord of the Rings, The Godfather, Indiana Jones, Despicable Me, Jurassic Park, X-Men, Fast & the Furious, Spider-Man, The Dark Knight and more.
Apple isn't just discounting movies of the same franchise either. It's also bundling movies with similar themes. For example, users can pick up Mean Girls and Clueless together too. Unfortunately, Apple isn't offering blanket pricing for these movies. As such, the discount being offered to users varies between bundles. The Harry Potter series will cost users $59.99 in high-definition while the Mean Girls/Clueless bundle will set iTunes users back $17.99.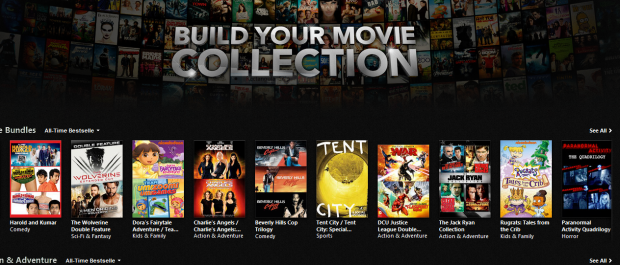 Apple also appears to be bundling extra content when available. As an example, the Harry Potter collection includes extended cuts from each film. Purchasing films included in the Build Your Movie Collection promotion also entitles users to check out the iTunes Extras information for that film if there's any available. Users who haven't experienced iTunes Extra are better off thinking of it something akin to the special bonus features movie makers sometimes include with on DVDs.
All told, the movie bundle isn't a bad deal for big fans of movie franchises. That's especially true when comparing its sale prices to those of rival services. Buying Harry Potter and the Sorcerer's Stone complete with Bonus features costs users $12.99 in Microsoft's Xbox Video Store. Buying it digitally at Amazon would costs $9.99.
Before purchasing anything there is one thing buyers need to keep in mind. Apple allows users to download these movies to their computer to watch offline or stream from their service, however video purchased from the iTunes Store isn't compatible with other companies' products. As such, users will be stuck watching any movies they purchase on their laptop, iPhone or iPad if they don't have an Apple TV.
Apple's sale page didn't include any information indicating how long the promotion will last.