Cheap Upgrade: My Pen-Centric Media PC
Slowly but surely, I've been upgrading my computer arsenal over the past few months. I'm not what true geeks would call "cutting edge," but I maintain a good pace right behind it. Sure, I'd like to be right there on the edge, but let's face it: it's expensive. Thus, I linger right behind it in a zone I like to call "price-cutting edge."
Riding the price-cutting edge, I've finally gotten around to getting that media PC I mentioned in my "Added a Tablet to my Tablet" post. For little more than the cost of a high-end Blu-Ray player (which I've been without for more than a year on my HDTV), I got a DVR with access to Hulu, Netflix, Pandora, iTunes, the Internet, and, oh yeah, a Blu-Ray player. And I'm managing it just fine with a Wacom Graphire Wireless tablet and no keyboard. Read all about it after the jump.
Shopping the price-cutting edge often takes patience… or stubbornness. Okay, probably both. In this case, I priced the features and specs I wanted, kept an eye on deals, and let a whole lot of them slide by until I had the budget in place. Based on the prices I found, I set my range around $600. Some people believe hard limits are necessary, but when I'm shopping deals, I want to be able to go with the flow. In this case, I spent about $560 with shipping.
So what did I get for that? My critical points were a high-end processor, graphics power to output 1080p, TV tuner and HDMI, and Blu-Ray. I found that on Geeks.com in a refurbished HP desktop with 2.4 GHz Intel Core 2 Quad processor, 4GB memory, NVIDIA dedicated graphics, 500GB hard drive, TV tuner and HDMI, remote control, and, oh yeah, Blu-Ray drive. Hard drive is a bit small, but that wasn't a big deal to me. Adding storage is easy and hard drive deals are on my radar.
Now, keep in mind, buying refurbished is not without risk. Some items do have legitimate problems, but a lot are just returned items that weren't exactly what the buyer wanted or can be easily repaired. Mine fell into that last category. Wouldn't boot when I first tried it. First instinct was to return it, but I decided to open the side panel and see if it was something simple. Sure enough, the memory modules were loose. One simple problem led to one price drop, which led to savings for me. Been working like a champ ever since… a champ without a keyboard.
Between the remote control for Blu-Ray/DVD and Windows Media Center, and my Wacom Graphire Wireless for everything else, I haven't needed the keyboard since the initial set-up. Not that surprising given I've never associated my TV with text entry. The vast expansion of what I do on my TV requires a little bit of text entry, primarily for searches, but it's adequately handled by handwriting recognition via the TIP or ritePen through my tablet.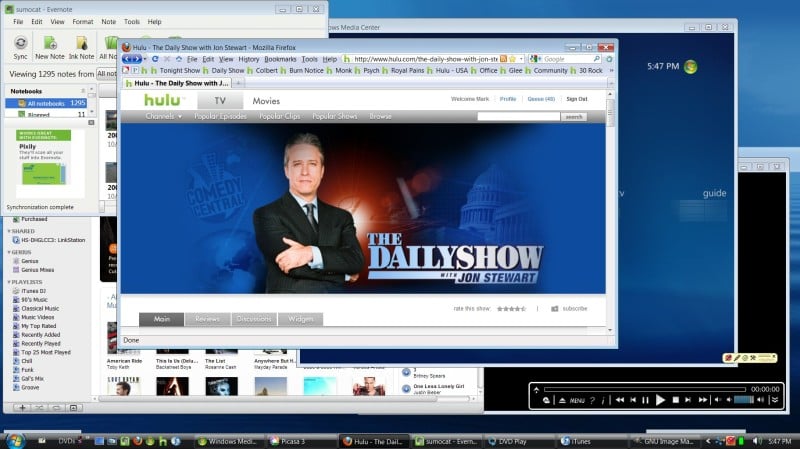 Among the applications included in that expansion is Windows Media Center for watching and recording TV; Firefox for watching Hulu and Netflix and listening to Pandora; HP DVD for watching DVDs and Blu-Ray; iTunes for music; Picasa for photo management; and Evernote for file sync. I've tricked out Firefox with FireGestures and Grab and Drag for easy control with the pen. Evernote is my way of throwing important links and files over to my media PC for later viewing and for getting small files off my media PC, like that screen grab.
There is more to do, such as advanced networking, but the basics are covered. My Blu-Ray disc collection is currently limited to one, but as you can see in the first photo, it's a good one. I'd really love to add multi-touch input, but I need my remote control to be wireless and Wacom doesn't make a multi-touch wireless tablet (yet?). More from my life on the price-cutting edge to come.