CheapAir Now Includes In-Flight Wi-Fi Availability In Search Results
I've never been a big airline loyalist, but for the past few years I've been trying to travel exclusively on Virgin America and Delta because there's always Wi-Fi available on the former and a good chance of it on the latter.
Other airlines have Wi-Fi, just not always as consistently. And not all flight finders have that information. I often don't know until I after I've booked the ticket.
CheapAir is looking to solve that problem for those of us who need the Internet at 30,000 feet. The flight finding service announced yesterday that they are now including a list of amenities in their listings alongside fare and schedule information.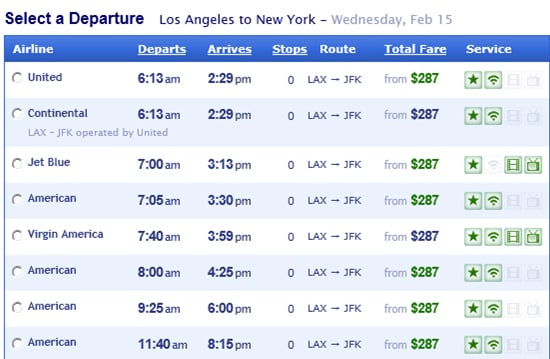 You can see if a flight includes Wi-Fi, in-flight entertainment, live TV, etc. If the trip includes connecting flights customers will be able to see which leg of the trip has which amenities. Because what good is Wi-Fi on the short hop to the major hub if it's not included on the longer flight to your final destination?
Putting the information upfront like this will also give you a good idea of which airlines to seek out or avoid in general.
I expect this functionality to end up in all of the major flight finders soon enough, as it's information more and more travelers care about. Now if only someone can do something about in-flight connection speeds…
Hat Tip: Lifehacker

This article may contain affiliate links. Click here for more details.