Cheaper iPad mini Dominates Apple's Tablet Sales
Cannibalization is a real effect that Apple is feeling since it had released the iPad mini, but thankfully Apple is competing mainly against itself still. According to recent numbers, the iPad mini comprises a whopping 65 percent of total iPad sales, showing that consumers are quick to adopt the smaller, more portable, and less expensive Apple model despite a lackluster display and an older processor by today's standards.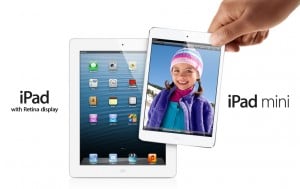 The figure was reported in a post by Digitimes, which has had a mixed track record for predicting Apple's performance and rumors in the past.
Apple's total iPad shipments were 19.5 million units from January to March, of which iPad mini accounted for 12.5 million units, showing that the 7- to 8-inch segment has already become the mainstream of the market, said the sources, adding that the second-generation iPad mini could make an appearance as soon as August.
And while the iPad mini is cheaper than the full size iPad, with starting prices at $329 compared to $499, both models are still more expensive than the slightly smaller Android tablets that are crowding the market, including models from Amazon, Barnes & Noble, Google, and Samsung. For example, both the Nexus 7 and the Amazon Kindle Fire retail for $200, or $130 cheaper than the iPad mini.
Because of their affordable price tags, these models have eaten into the iPad market share. Microsoft's Windows 8 tablets are also gaining popularity in the slate computing segment, but still trails both the iPad and other Android tablets.
Despite falling shares thanks to stiff competition from the low-end of the tablet segment, the iPad still is the tablet market leader.
To combat competition at the bottom, Apple is rumored to be working on a cheaper model of the iPad mini as well as a next-generation successor with high-end specs. The high-end iPad mini will be a premium experience with a Retina Display according to most rumors while the low-end model will come in at around $200-$250 and will eschew extras like cameras to keep costs low. The cheaper model could arrive at WWDC, ahead of Apple's rumored fall refresh for its mobile product line, which includes the iPhone, iPod, iPad, and iPad mini.

As an Amazon Associate I earn from qualifying purchases.