Check Out Real Time Translation During Video Chat in Vocre 2.0 (Video)
Smartphone apps have made translation simpler in everyday life, but most apps are only useful for text and in-person conversations. The new Vocre 2.0 makes it easier to translate video chat conversations that take place across countries and languages.
Vocre 2.0 is an iPhone, iPod touch, and iPad app that offers FaceTime-esque video chat with translation options. Just tap the record button when you're speaking to your friend who speaks another language, and tap it again when you're done talking. You speech will then be translated for your friend as text on screen. The translated test will also be spoken to your friend.
In the video below you can see Vocre 2.0 in use, providing translation for tow lovers with a language barrier.
The new Vocre 2.0 app is currently in a private beta, which you can sign up for here. It currently supports a total of 23 languages. The basic app with machine translation will be free and ad-supported. If you want to pay for more features like on-demand human translation you can, though no price was announced for the feature.
The translation database will improve over time as more people use it, so eventually the human translation might not be necessary. Despite years of improvements machine translation still isn't perfect, so if you opt for the free version you'll probably have to deal with a few inaccuracies from time to time.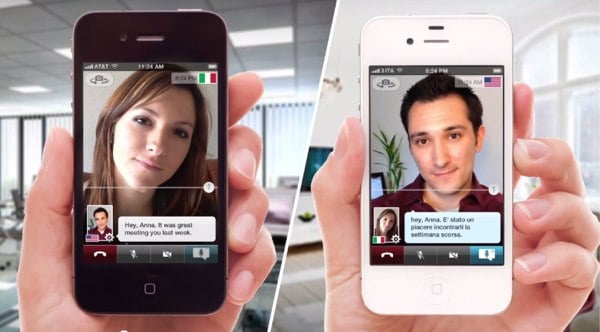 This appears to be the first time live translation over video chat has been attempted. At least it seems to be the first time it has been tried on a mobile device. The app could be a great help for businesses that need to communicate to partners in other countries, students trying to learn new languages, or just people with friends in other countries who haven't been able to easily video chat because of the language barrier.
Via: Engadget

As an Amazon Associate I earn from qualifying purchases.