Checking Smartphone Maps While Driving Now Illegal in California
A court in the State of California ruled that using a smartphone to check map apps while driving was illegal. As a result, som people are concerned about how this will affect their experience behind the wheel. But while it seems like this law would ban all smartphone usage while driving, phone manufacturers already have put technologies in place to get around the ban, such as Apple's Siri and Samsung's S Voice Drive.
The California Vehicle Code states "a person shall not drive a motor vehicle while using a wireless telephone unless that telephone is specifically designed and configured to allow hands-free listening and talking, and is used in that manner while driving." A resident who was cited for using a mapping program while driving fought a citation in court, saying that he was not talking on the phone. A judge still ruled that what he was doing was illegal. The judge's ruling came from a "plain language" interpretation of the law, which is designed to prevent distracted driving due to holding the phone in the driver's hand.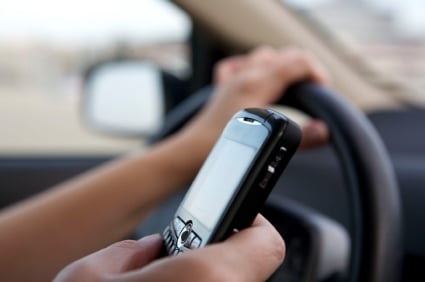 Not everyone has a vehicle that has a built-in navigation system (and even those could still be considered dangerous), but there are still ways to use the phone as a GPS and stay legal. Mounting the cell phone to the dash of the vehicle and using a voice command system like S Voice Drive to manipulate the phone is still considered legal. iPhone users can use Siri for navigation control.
It is important for California residents to remember that it is also illegal to stick items to the windshield. This rules out windshield phone mounts, windshield-mounted radar detectors and windshield mounted GPS devices. Mounting on the dash is a safe and legal way to use electronic devices in the vehicle. We recommend Proclip mounts for the mounting. We also recommend the Belkin AirCast Auto for controlling an iPhone. The Belkin unit allows the driver to hear all the phone sounds and control the phone with a mountable Siri activation button.
With solutions like the Proclip mounts and Belkin units, it is possible for drivers in California to still use the vital functions of their phone while still staying legal.