Chill Pads and Other Cooling Solutions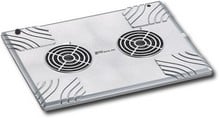 In response to a reader's question, Judie at Gear Diary takes a look at an accessory I have used for some time as a cooling solution for my Tohisba M200 Tablet PC and also now use, (though less frequently) with the Lenovo Thinkpad X60 Tablet PC. It's the Targus Chill Pad. You can find them at most big box retail stores.
Basically The Chill Pad sits under your Tablet PC, plugs into a USB port, and the two fans provide air flow that does work to keep the Tablet PC cooler. When I'm using either convertible Tablet PC in laptop mode, it is sitting on a Chill Pad. I actually have one at home and one at the office. I figure the $19.99 price is worth it for to keep things cooler and extend battery life (heat is one of the enemies of the life expectancy of batteries.)
Judi also points out other similar solutions are available as well.

As an Amazon Associate I earn from qualifying purchases.