Is this a Photo of the Real iPhone 5?
The iPhone 5 is likely just a few months away, but one Chinese case maker already appears to have the phone.
According to Gizmodo Chinese case maker Cool Zone PDA is already producing cases for the iPhone 5, though it looks like the photos were already taken down. That in itself is nothing new, we've seen recent iPhone 5 cases before. This time it's different because the manufacturer actually appears to have the iPhone 5 to fit in its cases already.
The iPhone 5 in the cases looks like the phone we've heard rumors of before. It looks about as wide as an iPhone 4S with a taller screen that looks like it can fit an extra row of app icons. The iPhone 5 in the photo also has the FaceTime camera placed above the earpiece, and lacks the black bar of sensors that's on the white iPhone 4/4S.
Update: 9To5Mac has more photos of the alleged iPhone 5 that seem t indicate that it's just a fake mockup.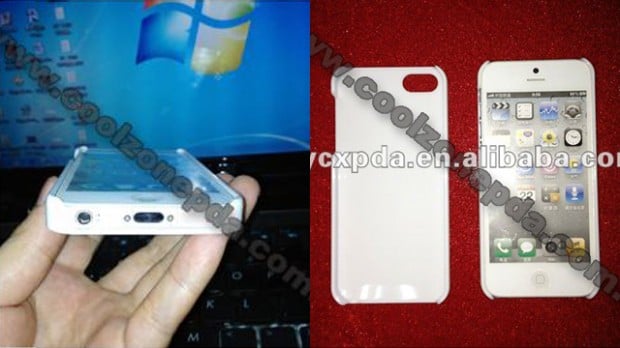 The bottom of the iPhone 5 in the photos shows the new 19-pin dock connector and a headphone jack next to it. The only oddity here is the headphone jack is on the left side of the device while previous leaks showed the headphone jack to the right of the smaller dock connector.
It is possible that Apple has two models, each with a different headphone jack placement. It sounds to us like a small enough detail to use to catch the people who leak the device. Or Apple may have just changed its mind. The other possibility is either this iPhone 5 or the previous ones we've seen were fakes.
iPhone 5 Release Date & Rumors
The iPhone 5 is currently rumored to launch sometime in September or October, and will likely feature 4G LTE capability.
As Gizmodo notes, previous leaks of working iPhone models occur within months of the iPhone launch. If this is a real iPhone 5, the iPhone 5 release date could be as early as September.
The device might also have unique features for iOS 6. Other rumors include a new "in-cell" screen technology that's thinner than the current screen, and NFC.