Chippy's Live Chat Looks Like It Was A Blast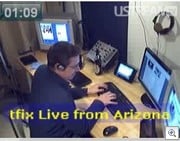 Steve "Chippy" Paine hosted a live video and chat session last night and from the looks of things this morning, it appears that it was a great success and lots of fun. All sorts of talk about Ultra Mobile PCs, MIDs, and other topics. Among the folks attending (sorry I couldn't be there myself) and calling in were jkk from jkkmobile and Thoughtfix calling in on his Noka N810. If you missed it live, there are some video and audio recordings of the goings on here. Check them out.

This article may contain affiliate links. Click here for more details.