Chris Pratley with a OneNote 2007 info update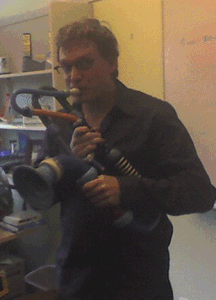 Chris Pratley is blogging more good info on the upcoming OneNote 2007 release. In this post on his blog:
Info on the new "Ultimate" Office SKU, which will include OneNote
An update on the latest beta release issues, including activation woes
There is new blogger on the OneNote team, Dan Escapa.
I also picked this bio information up from his blog:
"About Chris Pratley:
I am the Group Program Manager for Office "Authoring Services". That means I manage the teams that design Word, Publisher, and OneNote (the "authoring" applications). I co-founded the OneNote team back in early 2001 and have been part of it ever since. At the same time I have been part of the Word team since 1995, starting on Japanese Word95 and growing to be the manager for the whole Word program management team. Before I joined Microsoft in 1994 I lived in Japan for several years working for Seiko-Epson Corp on color inkjet printers and had a great time learning Japanese language and culture. I met Seiko (my wife to be) there as well, and we have a son Ciarán who is two years old. I am originally from Montréal, Canada and I have a Systems Design Engineering degree from the University of Waterloo. "
And finally, stay tuned to GottaBeMobile.com for the next few days, and "hear" more about Chris Pratley and his efforts at Microsoft. Rob is working with Chris on an audio interview!