Christchurch Earthquake: Google Sets Up Crisis Response Page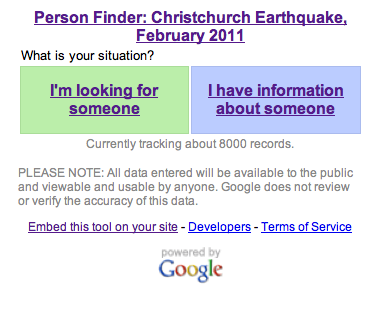 The 6.3 earthquake in Christchurch, New Zealand has killed at least 75 and many more are injured. As with any major emergency, communication in and out of the area has become a major challenge. Google's pitching in by maintaining a Crisis Response page to help people affected by the earthquake to find each other and guide them to resources.
The Person Finder is an embeddable tool that helps people look for someone or find someone. Thus far, there are 8,000 records in the database.
https://www.youtube.com/watch?v=BfcWraeZvcw
Google's also using the page to consolidate information about the earthquake from Twitter users, YouTube and global news sources. If you have family in Christchurch or have been affected by the earthquake, we recommend keeping an eye on the page as the information is constantly updated.
Donations to the New Zealand Red Cross can be made here.