Chrome for Android Now Available for Android 4.0 Devices
Today is a great day if you've been waiting for Google to release the beta of Chrome for Android because that is exactly what the company has done. After a long, long wait, Google has finally released Chrome for Android Beta, a browser that the company says is focused on two primary aspects. Speed and simplicity. This has been a long time coming so let's take a look at what the browser will offer in particular.
The first feature that Google delves into is speed.
Searching, navigating and browsing is going to be as fast as you would expect from Chrome browser. If you need to switch to another webpage, you can just flick your finger. If you're searching, you'll have your top results appear in the background.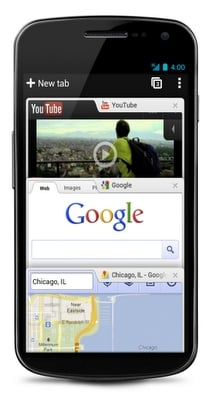 Google says that it has designed the Chrome browser for Android from the ground up and that it designed the tabs of the browser with mobile devices in mind. That means that they will fit naturally on your phone or your tablet. In addition, you're able to flip through an unlimited number of tabs by using gestures.
The company has added Link Preview so you can see the pages that you're navigating to and there is also the familiar incognito mode which will allow you to browse the web without any sort of history left behind.
Those are only a few of the features coming with Chrome for Android Beta.
As you may have expected, the browser is also optimized for use with your Google account. Once you sign in with your account on your Android phone or tablet, you'll be able to:
View open tabs: Access the tabs you left open on your computer (also signed into Chrome)—picking up exactly where you left off.
Get smarter suggestions: If you visit a site often on your computer, you'll also get an autocomplete suggestion for it on your mobile device, so you can spend less time typing.
Sync bookmarks: Conveniently access your favorite sites no matter where you are or which device you're using.
You can see some of these features in the video below:
https://www.youtube.com/watch?feature=player_embedded&v=lVjw7n_U37A
So if you own an Android device and you haven't been using Chrome as your main browser, now might be the time to get started.
Thing is, right now, the browser is only available to mobile devices with Android 4.0 Ice Cream Sandwich on board. And right now, that list is extremely limited.
Google has not given a timeline for when the browser will be available on anything but that version of the software so those of you on Gingerbread or Honeycomb or lower might have a bit of a wait ahead of you.
If you do happen to have an Android 4.0 device, you can find the beta version of Chrome for Android in the Marketplace right here.