Chrome for iPhone Gains Full Screen Mode, Printing Support
A new update to Chrome for iPhone adds a few new features to Google's browser, including the ability to see full screen websites on the iPhone and iPod touch.
The new Chrome for iOS update lets iPhone and iPod touch users scroll up to hide the Omnibar, giving them more screen real estate for webpages. The feature works the same as Safari for iPhone, as users scroll down the webpage the Omnibar and menu option simple scroll with the top of the page.
Unlike Safari, Chrome to iOS doesn't have a menu bar at the bottom of the screen, which gives users even more screen space for content. To get the Omnibar back, users can just scroll up the page. While Safari makes users go back to the top of the page, Chrome just asks them to scroll up a bit similar to how the Facebook app makes the status update bar reappear.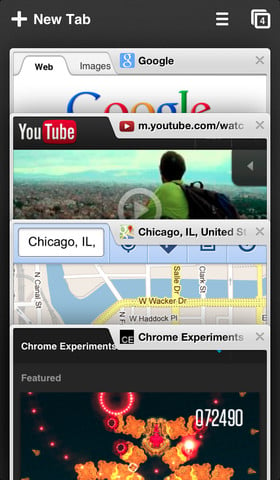 The Chrome update also adds the ability to print web pages using either Apple's AirPrint feature or Google's Cloud Print service. Both services let users print from their iPhone, iPad or iPod touch wirelessly. Both require compatible printers connected to a home network, however.
Users who don't want to print pages from their iPhone or iPad can use the new version of Chrome to save PDFs of websites to Google Drive. There users can download the page for later viewing, or they can print it later from a desktop computer.
While the update brings a few features that are already available in Safari for iOS, there are still some features it can't use. The biggest limitation for Chrome on iOS is it can't use the faster JavaScript engine that only Safari has access to. That means some websites aren't as fast on Chrome as they are on Safari.
The limitations of iOS also prevent Chrome for iOS from switching to the new Blink rendering engine Google announced it would switch Chrome to last week. Chrome for iOS will continue to use the same WebKit engine that powers Safari because that's all that Apple allows.

As an Amazon Associate I earn from qualifying purchases.