Chrome OS Cr–48 Review Part 2: Verizon 3G Setup
According to Google, all Chrome OS notebooks will come with Verizon 3G built in. The Cr-48 is no exception. One of the first things I did when I am boxed the CR 48 last night was to set up mobile broadband on the device. Set up was pretty painless, but there's much more than meets the eye than free service and plans "starting at $9.99."
This is the second part of a multi–part review of the Google Chrome OS Cr-48:
Part 1: Google Chrome OS Cr-48 Out of Box Experience

Mobile broadband modems, whether integrated or external, are typically $75-$200 add-ons. This hefty upfront fee prevents many mobile users from ever experimenting with mobile broadband, offense limiting their mobility. Bundling Verizon 3G into Chrome OS notebooks is a very wise move. Internet access is a must-have with the Cr- 48. Sure, some Google Chrome OS web apps have off-line functionality, but I wouldn't want to spend too much time using this device offline.
Every Google Chrome OS notebook will come with a Gobi module and free Verizon 3G service. I'm sure the "free" mobile broadband service will be promoted heavily with the tiny Asterix over the word "free." The fine print will read that only 100 MB of data is allowed per month for the first 24 months of ownership. After that, you'll have to pay big red the big bucks for mobile broadband, just like everyone else using a Mac or PC.
A hundred MB of data is certainly enough to get a taste of mobility, but it is very easy to burn through that. In Google's Chrome OS presentation, on Tuesday, the product managers kept on repeating that Verizon plans will start at $9.99. That price is for unlimited usage for one day.While technically true that the plans start at $9.99, I wouldn't really call a one day "plan". A real Verizon plan for Google Chrome OS users costs $20 (1GB), $20 (3GB) or $50 (5GB) per month.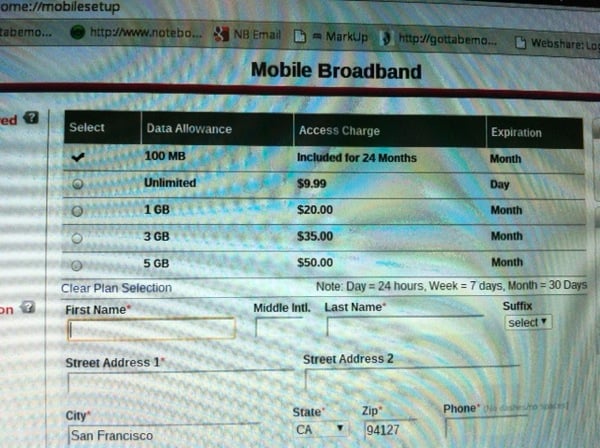 Upgrading to one of the paid plans can be done when you set up your Chrome notebook. You are required to enter your billing address, personal info and credit card account info to sign up for a Verizon account, even if all you want is a free 100 MB.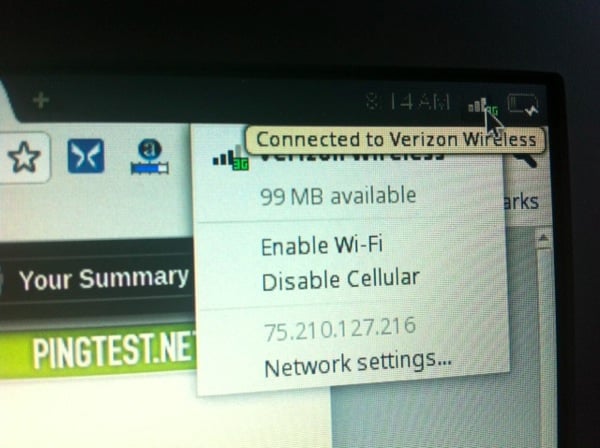 I currently have 98 MB remaining and my Verizon plan details are not visible. I assume upgrade options will reappear once I near the limit. One nice thing about the Google Chrome Verizon 3G set up is that it's very easy to see how much data you have remaining for the month. All you have to do is mouse over the 3G signal indicator in the top right-hand corner of the screen.
Another thing I really like about the configuration is that the Chrome notebook automatically switches over to its Wi-Fi connection whenever known network is detected. I found this out when I switched to Verizon 3G manually to run a Speedtest.net test from my home office and was amazed to see 22 Mbps downloads and 10 Mbps. Obviously, it's much faster than I expected, but then I saw the results listed Comcast as the ISP. The automatic switching works both ways. When I walked down the block and lost sight of my home network, the notebook automatically switched over to Verizon 3G. If you're able to authenticate enough Wi-Fi networks you'll be able to skimp on Verizon fees.
Since I already have us Sprint MiFi card I probably won't sign up for paid Verizon service, but it is nice to know that I now have another backup Internet connection. Comcast isn't perfect and neither is Sprint. I now also have the ability to handoff a mobile Internet connection to friends and family when visiting.
It is very nice to have mobile broadband built into the machine. My only concern is that many consumers will assume they'll be able to access the web for free. In the age of streaming media and heavy websites, users will be able to burn through 100 MB in a single computing session.
The $9.99 day pass is the best option for those are typically covered by Wi-Fi at home and work, but are occasionally other range. Paying $9.99 for Internet access during a weekend trip might sound expensive to some people, but it's well worth it if that means you can hit the road a day or two early and work during your drive to the ski slopes.