Chromecast App for iPhone and iPad Arrives
The wildly popular $35 Google Chromecast that surprised the tech world, works with Google products, but now interfaces with the iPhone, iPod Touch and iPad, thanks to the new Chromecast app for iOS.
The free app does only a limited number of things. It launches and looks for a Chromecast on the same network as the iPad, iPhone or iPod Touch and lets users set up a new Chromecast. The app also shares content from the iOS YouTube and Netflix apps to the Chromecast, by sending a link to the videos which then play directly from the Internet instead of through the computer and now iOS device.
Here's our Chromecast review video:
The Chromecast connects to a TV or other video displays via HDMI. If the TV or display includes a USB port, the user can power the Chromecast without plugging it into a wall outlet. Otherwise users must get power via the USB port and a USB to AC adapter.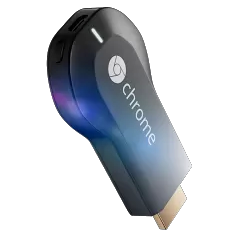 Chromecast runs a dumbed down version of ChromeOS and Android. The device streams YouTube and Netflix and displays web pages from the Chrome browser via a plugin. During the early days of the device's availability it came with three free months of Netflix making the device an even better value.
Google recently pushed an update that broke a hack that let users share anything from their Android phones to the Chromecast. Google claimed that the Chromecast SDK is in early development stages and not ready for such apps. They left the door open for a possible opening to this kind of development in the future, according to Techcrunch.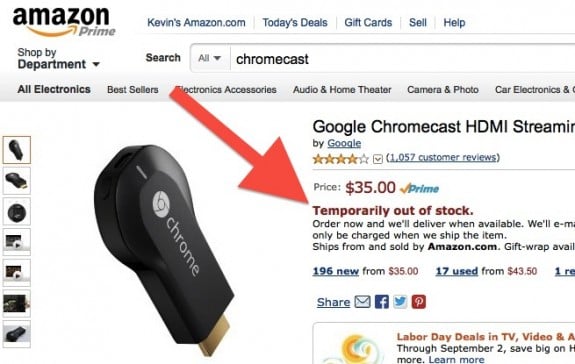 The Chromecast sold out the early supplies on the Google Play Store device section and on Amazon and Best Buy, the places Google made it available at launch. We ordered one on August 7 and just received notice that the device will ship today, more than two weeks later.
We hope that apps like the Chromecast iOS app signifies that Google may open up the Chromecast to other platforms and devices to really make it an Apple TV competitor and add the functionality to current Google TV boxes.
Google's struggled in the past in the area of home entertainment, with Google TV never really taking off and the Nexus Q, which they announced and then killed before they even launched it widely.

This article may contain affiliate links. Click here for more details.