Chromecast Deal: Get One Free with Spotify Premium
The Chromecast is a cheap product as it is, but if you've still resisted in paying that much for it, here's a Chromecast deal that might be hard to pass up.
If you're a Spotify user or have been thinking about switching to Spotify recently, now may be the time to do it, as the music streaming service will give you a free Chromecast when you sign up for three months of Spotify Premium.
The deal is on now through February 28, which gives you over a week to make a decision, but the deal is only eligible to Spotify Free users who haven't taken a free trial or tried Premium, and users new to Spotify.
Three months of Spotify Premium costs $30, so you'll be saving $5 off the normal price of the Chromecast, and you'll be getting Spotify Premium as a bonus. It's like a buy one get one free sort of promotion, and it's not a bad one either.
Unfortunately, the only downside is that current or past Spotify Premium users are ineligible for the offer, which seems rather odd, since Spotify would benefit trying to win back past Spotify Premium users who may have jumped ship to Apple Music.
In any case, the offer is available to users in the US and in the UK, so whether you live in the States or across the pond, users can take advantage of this deal.
We're not too surprised that Spotify is making things interesting and trying to get more Premium users, especially with Apple Music taking off hotter than what some people may have expected. Spotify's partnership with Google could also be a subtle sign that the streaming service wants to take Apple Music head on, although Google has a music streaming service of its own that competes with Spotify. However, it seems like a win-win situation for both sides: Spotify sells more Premium memberships and Google gets more Chromecast devices in the hands of users.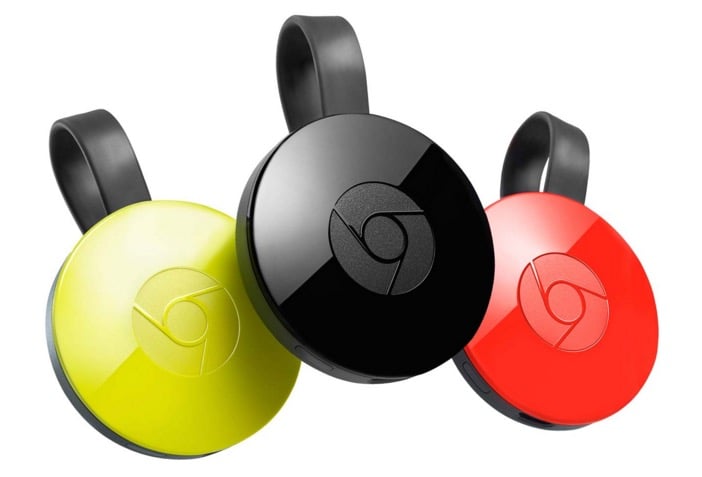 Google updated its Chromecast last year with a new design and more features. If you're not familiar with the Chromecast, it's a small HDMI dongle that plugs into your television and allows you to beam content from your smartphone, tablet, or computer to your television. However, it works a bit differently than Apple's AirPlay. Once you beam content to your TV, the Chromecast takes over WiFi duties and your phone is no longer needed, allowing you to do other things while the content continues to play.
The new Chromecast has better WiFi hardware on the inside, but that's about it. It's still capped at 1080p and the only big difference is the new disc-shaped design. However, it remains at the same $35 price tag that the old generation was, so there's certainly nothing more to lose.
On top of the regular Chromecast, Google also has a Chromecast Audio device for $35, which essentially turns your wired speakers into wireless speakers and lets you play music to these speakers quickly and easily.
It looks like the Spotify Chromecast deal is only good for the video model of the Chromecast, but $35 is pretty cheap, so getting a Chromecast Audio as well certainly won't break the bank.

This article may contain affiliate links. Click here for more details.