ChromeCast Overtakes Apple TV on Amazon, Netflix Promo Pulled
The new Google Chromecast HDTV accessory is too cheap and popular for the a launch promotion which included 3 months of Netflix service with the $35 device bringing the actual cost down to about $11.
In just over a day of sales the ChromeCast surpassed the Apple TV, climbing to the #1 spot in Amazon's Best Sellers list.
Google's ChromeCast is a new $35 device that puts YouTube Netflix and web pages on any HDTV with a HDMI port. The short video below provides an overview of Google's super-cheap Apple TV competitor.
https://www.youtube.com/watch?feature=player_detailpage&v=cKG5HDyTW8o
Google launched the new device which connects to a WiFi network with three free months of Netflix, but ended the promotion quickly. In a statement to the LA Times Google blames "overwhelming demand" for the end of a "limited quantities" promotion.
After a day of sales the ChromeCast is sold out on Amazon and at Best Buy, though Best Buy is still taking orders. Best Buy retail stores will start selling the ChromeCast on Sunday, though some locations may already have the ChromeCast on store shelves. It's not clear if these in-store units still come with a free three months of Netflix promotion.
Shoppers are already seeing a surge in demand for the device with resellers commanding double the price on Amazon and eBay.
The Apple TV retails for $99 and works without a smartphone, laptop or tablet connected. The Apple TV includes built-in apps for renting and purchasing movies and for streaming Netflix, hulu Plus, HBO Go and more. Only Apple iOS devices can connect to an Apple TV to play a movie on-screen or stream music, but a controller lets an Apple TV owner use the device without any smartphone needed.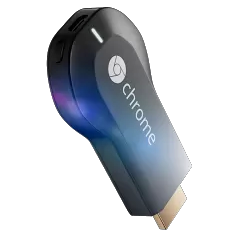 Google counts on the fact that most users are already watching the TV with a smartphone, tablet or laptop in hand or on lap. Once connected and streaming Netflix or YouTube the user can still use the phone like normal. Google showed off the ability to switch between devices the content streams from one device to another. The Google ChromeCast works with Android, iPhone, iPad, Mac and Windows 8.
Read: The Chromecast, What it Should Have Been
The ChromeCast may not be as much of a cord-cutter accessory as the Apple TV, but there are plenty of smartphone owners that currently have no way to play Netflix or Pandora on the best screen and speakers in the house, This is the market Google is aiming for with a $35 device.
Early sales are promising, but the challenge ahead lies in getting the average user to buy a ChromeCast after the influx of early adopters is over.