Chrysler Loses $10,000 per Fiat 500e Sold
The Fiat 500e is Chrysler's first all-electric vehicle. The Fiat 500e is gearing up to go on sale, and last week Chrysler CEO Sergio Marchionne dropped a small bombshell when speaking at the Society of Automotive Engineers World Congress: Chrysler will lose approximately $10,000 on every 500e sold.
Available only in California, the 500e serves Chrysler in many ways. It is a test-bed for Chrysler's electric vehicle technology. Although the in-car entertainment technology is limited (much like the regular Fiat 500), the vehicle is targeted to the technologically-savvy set who want an electric vehicle in a stylish small city car. Lastly, it is a compliance vehicle for Chrysler to keep the company's average fuel economy high. The cost of the 500e rings in at $32,500.
Marchionne makes no qualms about describing the 500e as a compliance vehicle for the requirement that the corporate average fuel economy for a manufacturer to be at 54.5mpg by 2025. Presently auto manufacturers producing alternative-fuel vehicles can earn credits they can apply to the average mileage rating. However, battery technology is expensive. Most manufacturers lose money when selling electric vehicles. It is believed Fisker loses a half a million dollars on each electric vehicle sold!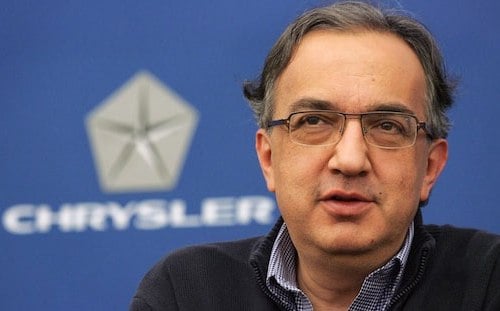 These costs are easily absorbed by large manufacturers, which makes it all the more impressive that Tesla is doing so well. Machionne's point of disclosing this number is to show how he believes that electric vehicles are not the only solution to solving the fuel consumption problem. Government agencies are providing huge incentives worldwide to purchase electric vehicles. Machionne thinks its silly to be all-in on battery-powered electric vehicles.
He also cites this loss as a reason for not taking the 500e into mass-production. "Doing that on a large scale would be masochism to the extreme," he stated.
Machionne also recognizes the market that he is in very well. Creating these new, alternative-fuel vehicles requires a significant amount of research and development to introduce. That requires a lot of money. Start-up auto makers are not going to have the resources needed to invest in this technology, which will lead to a consolidation of the industry as a whole. He goes on further to say, "I continue to believe that when all the dust settles, we will be left with just five or six global players."
Except for Tesla. They seem to be the automaker who has the electric vehicle model figured out and looking toward profitability, unless battery-powered electric vehicles are not our future.

As an Amazon Associate I earn from qualifying purchases.