Ciao Bella! Tablet PC Italia Relaunches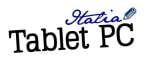 Oh what I wouldn't give to be blogging from the beautiful beaches of Italy while sipping a capucino. Until then, I'll just live vicariously through the good folks at Tablet PC Italia, who just relaunched their website with a new design and features. Here is the official announcement:
After 5 years tabletPC.it — Italy's first website dedicated to Tablet PCs — re-launches with a new design and changes its name to Tablet PC Italia.

 

Apart from the new brand name and design Tablet PC Italia presents three important developments.

 

•  The layout has been futher optimized for use in slate mode and pen-based navigation. Left handed people have the option to move the navigation menu from right to left of the screen to avoid covering the screen with their hand as they browse the site.

 

•  Updated content and addition of new sections for photo galleries and videos. The forums have been expanded and now include ones dedicated to the main brands present in the Italian market.

 

•  Readers can now comment on news items and articles and subscribe to RSS feeds.

 

The mission remains the same, however: to introduce Tablet PCs to those who do not know them and remain a point of reference to people who use Tablet PCs at work, home or on the road.

 

Another important development is the collaboration with Dr. Giacomo Davide Fumagalli, who blogs about Tablet PCs on Il Tablet PC Italico and il Tablet PC Universitario. Dr. Fumagalli will act as resident expert in the discussion forums to answer questions and participate in discussions.

 

Tablet PC Italia is available at: www.tabletpc.it

 

Tablet PC Italia (www.tabletpc.it) is Italy's first website dedicated exclusively to Tablet PCs and has been publishing news, articles, product information, reviews and forum discussions since 2003.

 

For more information please contact: [email protected].

This article may contain affiliate links. Click here for more details.