Clash of Clans May Update: 7 Things to Expect
The hit mobile game Clash of Clans has received a multiple updates lately with lots of changes. Aimed at improving the game, speeding up attack times and even getting rid of cheaters. However, Supercell isn't stopping there, and this week confirmed another big update is coming soon. Tons of new troops and spells are coming soon, and here's what players can expect.
Earlier this month Supercell sped up the game drastically by cutting the time it takes to make armies and spells in half, if not more, and everyone is loving the changes. However, now it look like Town Hall 11 will be getting tons of new stuff, canon upgrades, bigger Lava hounds, and more. Not to mention new spells, spring traps and other things for everyone else.
Read: Clash of Clans Update: 7 Things We Want Next
We've seen a lot of changes over the past 5-6 months, and more are coming. The next update was announced this week but we only know a small bit about what to expect, which is friendly attacks. It sounds odd, but this is one of many features found in Clash Royale making its way to Clash of Clans.
Supercell just confirmed another Clash of Clans update is coming soon, likely during the month of May, which will introduce friendly attacks or the "Friendly Challenge", and much more. The point here is to allow clan members to fight each other, simply for fun, or to practice attack strategies, improve base designs, and further competition down the road. We can also expect more tournaments and streamers to make awesome videos.
Gamers will be able to do as many friendly attacks as they'd like, and it doesn't cost any gold or elixir. Troops won't be wasted and clan castles won't need to be refilled. It's purely for fun and practice. Everything used will be returned to both the attacker and defender.
There will be a new challenge or friendly battle button at the top of the Clan Chat box, and anyone in the clan will be able to attack your village once it has been started. This will let others perfect attack strategies or learn to funnel troops properly, and the owner of the village will see what attacks work, where weak spots are in a base design, and make the necessary changes. It's an odd move considering they just banned a similar thing with Clan War cheating and xmods, but should still bring plenty to the table.
Update: While giving out sneak peeks this week for the update, today Supercell revised the Friendly Challenge details. Stating that after feedback they feel some changes are necessary for when this update arrives. Adding a cool-down period and changing the "scout" aspect of Clan Wars to prevent users from copying a base, and practicing on it for 23 hours before a war starts. Basically, keeping things fair, fun and competitive. Here's addition information.
What Else Is Coming?
We don't know what all is coming, but there are rumors of another Dark Elixir troop, similar to the Ice Wizard in Clash Royale. As always the moderators at the Clash of Clans forum have started releasing daily "sneak peeks" for the update, revealing a little information one day at a time. That means this will be a big Clash of Clans update. Here's what else we know.
Town Hall 11
Players at Town Hall 11 will be getting more goodies, along with lower players as well. The full details can be found here, or just read on below.
Cannon level 14
Lava Hound level 4
Balloon level 7
In Town Hall 11, air armies have dwindled in popularity. These new levels should help revitalize high-level air armies while helping to defend against the ground rush. We can expect to see huge spammers dropping tons of balloons and using the rage spell to dominate our village. We're also hearing more walls are coming, level 8 Giants, and other things.
The Bowler troop released earlier this year will be getting a housing reduction, and will only take up 6 spaces rather than 8. To make him more useful. The Bowler is available at TH10 and above.
Town Hall 7+
Everyone at TH7 and above will be getting the chance to upgrade Spring Traps, which is a move to take out more units thanks to a bigger surface area. This is geared at those big Valkyrie compositions we've been seeing lately.
New Troops
The biggest news out of this upcoming Clash of Clans update, if you ask me, is the new Miner troop. We're seeing more and more aspects from the new game Clash Royale come into Clash of Clans, and that's exactly what the newest announcement is.
Clash of Clans is getting a new baby dragon troop. It's not as big or powerful as the regular dragon, and does decent damage. However, left alone this baby dragon throws a fit and deals severe damage to buildings. We'll have to be strategic as its placed.
On Sunday, Supercell announced the Miner, the first troop that can actually go under walls and penetrate anywhere on the battlefield or inside a village. The miner goes underground, under walls, and can go right towards the Town Hall. Then popup and deal damage with his axe pick. A fan-favorite from Clash Royale, now in Clash of Clans.
New Dark Elixir Spells
As many expected, a new Dark Elixir spell is coming with this May Clash of Clans update as well. Apparently taking another page out of the Clash Royale book, this will summon an army of skeletons anywhere on the map. Perfect to support the Queen as she takes down a Town Hall.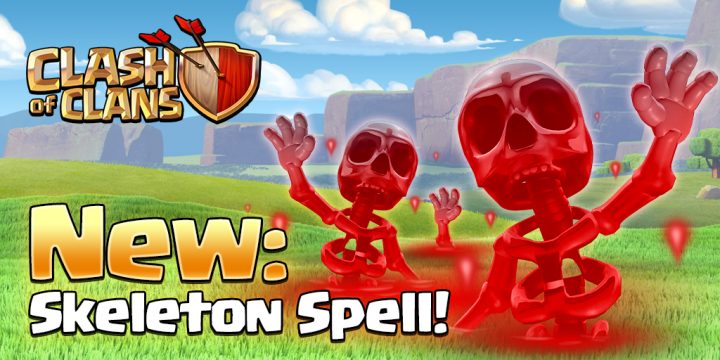 Available at Town Hall 9, the Skeleton Spell allows you to summon an army of Skeletons anywhere on the battlefield.
There will also be a clone spell that will clone tons of troops as they enter the spell. As in drop the clone spell in the path of troops, and as they enter, more will spawn and double your attack powers.
We can expect Supercell to announce other big changes over the course of the next few days, then this update should arrive sometime after Monday, May 23rd. Here are the other small details.
Other:
Edit Mode tools: A bunch of features added to make editing layouts easier
Donate fully trained Troops/Spells from production queues even if your army is full
Drag troops/spells anywhere into a training queue – training progress is transferred
Gem Troops/Spells for donation directly from the donation context menu
War Logs for any Clan can now be publicly viewed, unless disabled in Clan settings
Builder Suggestions: Tap Builder Info to see and select suggested upgrades to perform
Live spectator count is now shown during attack – see how many others are watching!
Chat stream revamped with built-in Request button
1-Gem Boost
Starting May 17th and running until this update goes live we have a 1-gem boost. Meaning players can boost all Gold, Elixir and Dark Elixir pumps for only 1 gem to earn more in-game currency.
For now all we know is a 1-gem boost is going to be available for at least the next week, and another big Clash of Clans update is coming likely sometime in May with friendly battles, lots of upgrades, new spells, more options, and possibly other changes and new troops. We'll keep an eye out for more details, teaser videos and sneak peeks at the forum and share any and all details once they're available.
Do you guys like the idea of friendly attacks in Clash of Clans? In a way this will keep competition at a high level, but it also opens the possibility for cheaters to copy bases during Clan Wars and practice as much as they'd like in a 23 hour period to master their attack, and win wars. Let us know your thoughts in the comment section below.

As an Amazon Associate I earn from qualifying purchases.