Clash Of Clans November Update: What We Know So Far
This week a small Halloween themed update hit the popular mobile game Clash of Clans, but that's just a teaser before one of the biggest Clash of Clan updates in history. Moments ago the first ClashCon gaming event just ended. It confirmed Town Hall 11 is coming, and over the course of the next two weeks the company will slowly reveal tons of new features for this major update.
This summer Clash of Clans, one of the most popular mobile games around received a huge update with tons of changes and new features. And in September another arrived, but that's only the beginning. Today we learned four or so important pieces of the puzzle, and below we'll go over what we know so far, and what to expect moving forward.
Read: Clash of Clans October Update: What to Expect
Now that ClashCon is over and all the hype has come to an end, Clashers are wondering what's new, what's coming, and where this huge update is. We now know TH11 is coming, a new 3rd hero and much more, but we won't know the final details for at least another two weeks. Read on for all the information available so far.
ClashCon was rather odd. An event where the developers of Clash of Clans, Supercell, hosted a huge event with mini 5v5 Clan wars and announced a few exciting new features. But that was about it. They hyped it up as the biggest update ever, and many thought it would arrive today.
Sadly, the big Clash of Clans update won't be delivered in October, and instead we're looking at a mid-November release date. That hasn't been confirmed, but Supercell did state they'll be releasing more information and teasers about the update over the course of the next two weeks. Which leads us to believe they have tons of exciting news to share in the coming weeks. Once the teasers end, the big Clash of Clans update everyone is waiting for, will finally arrive.
Below is a sample image released by Supercell of the third hero coming to Clash. There will be the King, Queen, and now this. It looks like a Wizard, costs elixir instead of dark elixir, and we have a few more details below.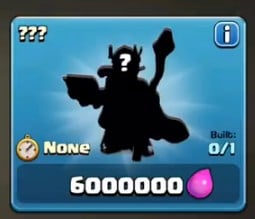 We don't know exactly what is coming, but have a good idea as well as a few confirmed new aspects of the game. Below are some new features confirmed by videos shown at ClashCon, speculations, and possibly new additions based on previous updates or rumors. These are the new Clash of Clan features coming soon, the first few have been confirmed, the rest are only rumors. Lets get started.
Town Hall 11 Confirmed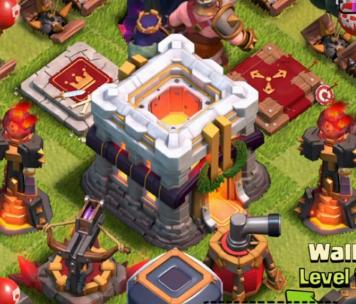 After nearly one year of reports and rumors, it's finally happening. Town Hall 11 has just been confirmed live at ClashCon. The image above is the new design, but that's about all we know right now. This will be a huge update that brings a new defensive troop to TH11 players, and much much more that we don't know about yet.
And yes, TH11 will pay 1,250 to hit next while searching for attacks, instead of the $1,000 gold it costs now.
The new Town Hall 11 has a pretty unique look, with an open top, and all white surface. It's very unique to say the least, and not remotely what many were expecting. That said, it's finally official, and hopefully the update arrives sooner rather than later.
Once we know more details we'll update, but this will likely cost a full 8 million elixir to upgrade.

As an Amazon Associate I earn from qualifying purchases.