Clash of Clans Update Delivers New Units, Improved Gameplay
The extremely popular mobile game Clash of Clans received a major update this week, as promised, that has delivered tons of changes for players. The game continues to be one of the most popular mobile titles on both Android and iOS, and now gamers have more reasons than ever to keep playing.
Supercell, the developer behind the hit title, released another big update today with tons of changes. Users will notice a new character called the Lava Hound, tons of new upgrade options, and more ways to spend gold and elixer.
Read: How to Transfer Clash of Clans to a new Phone
Clash of Clans is one of those games people play for months and months, and many iOS users have been playing it for over a year. It launched on Android back in October, months later than the iOS release, which made the game really take off. On Android alone it has between 50-100 million downloads, and over 5 million reviews on the Google Play Store. So yes, it's that popular. Read on for more details regarding the massive new update that arrived today.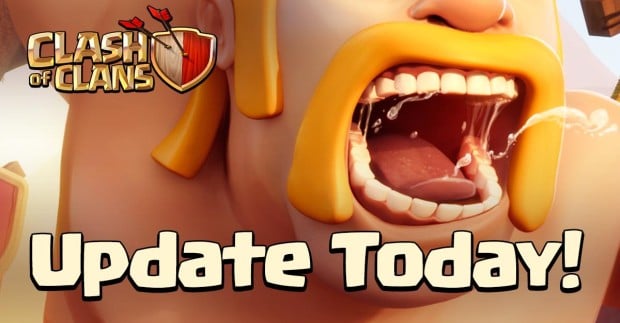 Clash of Clans is a freemium game full of in-app purchases for gems, which can be used for gold and elixer to continue building your city full of defense, upgrade troops, and attack enemy villages to raid for gold. It continues to gain popularity thanks to the excellent gameplay, additional feature that arrive frequently, cross-platform support with iOS and Android, not to mention the new Clan Wars addition that launched a few months back.
Today's update though, is one of the bigger ones we've seen in a while. Whether you're still a daily (or hourly) player, or haven't touched Clash of Clans for months, you'll want to check out all the details below to know what's going on in the latest release.
Read: Clash of Clans Hacks: 3 Things You Should Know
First up, is the new unit or character. It's called a Lava Hound, and is basically a tank (or Golem) that floats above and seeks out air defense. This will target air defenses first, then other defenses second. The game is all about strategy, and this will be a major factor moving forward with base layouts, and attack strategies. Check out the Lava Hound in action:
Along with the brand new air unit, Supercell also made some major changes to how users can buy and upgrade walls, as well as extended the upgrade options for an array of buildings. The update added new features, balanced out gameplay more, improved performance, and will finally let you upgrade more building while your hero's heal faster than ever before. Here's the full changelog in the all-new Clash of Clans Lava Hound update. Read on to the end because the "other improvements" are extremely important too.
New Dark Elixir Unit: Lava Hound
This faithful flying unit cannot resist chasing after fireworks, and will go straight after the nearest Air Defense
The Lava Hound's massive hitpoints makes all the incoming damage seem like mere playtime
Though the unit deals very low damage, it will erupt upon death into many tiny Lava Pups that attack any nearby buildings
Available at Dark Elixir barracks level 6, Town Hall level 9
New Upgrades
Barbarian & Archers level 7
Archer Tower level 13
Dark Elixir Barracks level 6
Wall Upgrading Improvements
Walls level 6+ can now be upgraded with Elixir instead of Gold – (YES, finally!)
Select a row of walls to upgrade all pieces with one button press (so long as the cost is not over the maximum possible storage amount)
Replay Improvements
Pause button added to replays (except live replays in Clan Wars)
Replays and live replays now show the attacker's available troops so you can see exactly what does and doesn't get deployed, and when
Live replay screen now shows the time remaining in battle so you can watch the timer tick down just like the attacker
Balancing
Hero regeneration time has been greatly reduced on all levels (My lvl 7 King now heels in 40 minutes, almost 40% faster)
Valkyrie training time has been greatly reduced
Healers have been trained to avoid distraction: now they will always try to stick with and protect the same group of friendly troops
Defending Clan Castle troops now use all 4 Castle doors when coming out (overall speed of deploying is still the same as before)
Other Improvements
Troops can be dismissed from Army Camps and Clan Castle
Removed spell production cancellation penalty (cancel spells without losing half the cost)
Spells are now produced in the same order as they are selected
Supercell has been busy teasing the new Lava Hound air attack unit for weeks, and now it is finally here. Those who play on the daily probably had to update before playing this morning, and if you've yet to check it out, update the game from the Google Play Store or Apple App Store, and check it out today. Now I must try and save another few million in gold to update more stuff. Let us know what you guys think in the comments below.

This article may contain affiliate links. Click here for more details.