Clash Royale July Update: What Gamers Need to Know
As expected, another big Clash Royale update is coming in early July with lots of improvements, a new Arena and two new Legendary cards. Each month since the release game balancing changes have been made, for better or worse, and another round is coming on July 4th. We now know there will be Tournaments, a new Arena, at least four new troops and more. Here's what you need to know.
Last week Supercell confirmed a brand new Tournament mode was in the works and coming on July 4th, and now we know that update will be accompanied by another round of balancing tweaks, and potentially a lot more. We don't have all the details yet, but sneak peeks have started to arrive.
Read: Clash Royale June Changes: What to Know
As we all know, Supercell continues to make changes in the game in an effort to make things more fair and balanced, exciting, and give everyone a chance to win. Or at least let everyone think they can win. We saw tons of changes in June, and more are coming early next month not to mention the company is reversing a few at the same time.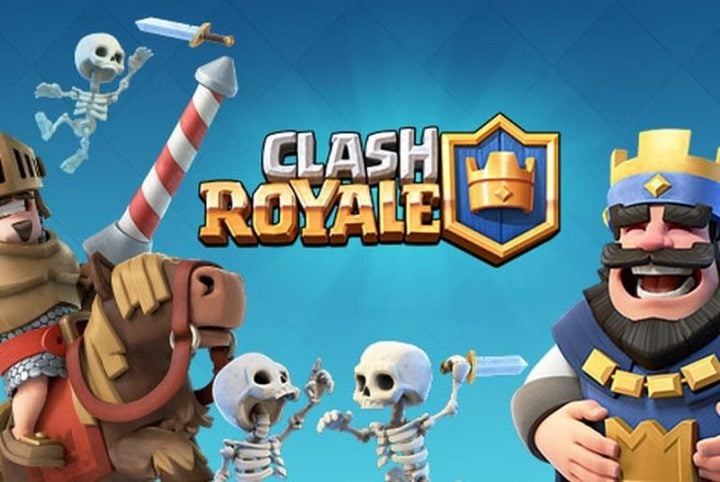 Last weekend Supercell started revealing everything we need to know about Tournaments. Releasing two blog posts containing all the details. Then following it up with the first big wave of Tournaments that start on July 4th. Before all those Tournaments begin though, an update will arrive that adds the new content and tweaks a bunch of troops once more.
So what can gamers expect from this new Clash Royale update? A lot, actually. For one the Tournaments will kick-off, but users will also see a stronger Dark Knight, bigger Skeleton Armies, cheaper Goblin barrels to compliment those Miner cycle decks and more. We now know there's another Arena, and four troops. Two of which are Legendary including the first Legendary spell. Good luck getting them though.
New Arena(s)
In what's probably the biggest news since the release, Supercell is adding at least one new Arena to Clash Royale with the July 4th update. It's called Frozen Peak, and will be for players with 2300-3000 trophies. It's also Arena 8, and Legendary Arena will now be 9, at 3,000 trophies like before.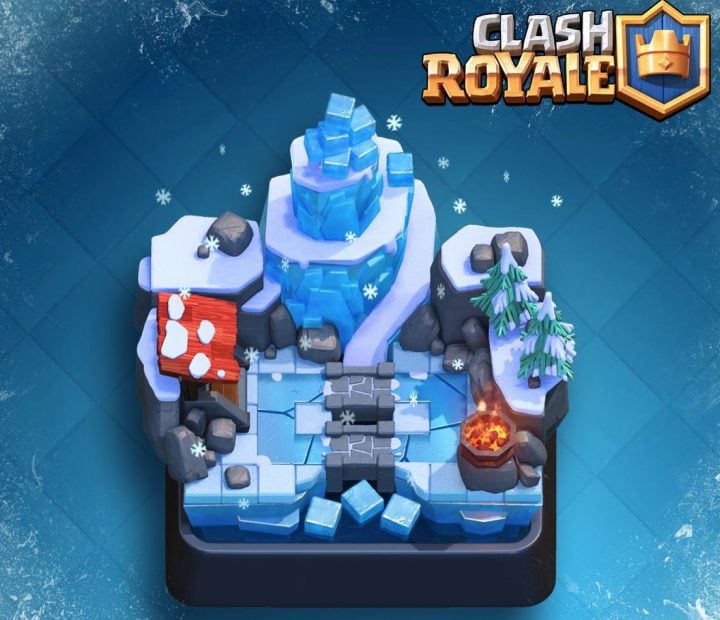 The design is all about Ice, and it looks pretty great. The image teases a Wizard Tower, meaning we could see a new Wizard Tower or Ice Tower in this update as well. Chances are there will be another arena at 3,500 or 3,700 trophies to fix the reset problem, and balance out everything so players aren't facing opponents way above their skill level. Update: Looks like another Arena isn't coming, at least not yet. This has been a huge problem, and looks to be getting fixed on July 4th.
Read: Clash Royale: 10 Tips for Beginners
We've now seen a slew of sneak peeks revealing pretty much the entire update, but more could be coming before the update tomorrow, or later this month.
New Cards & Troops
Supercell typically releases a few speak peek teasers before the update, and now we've received four. The new Arena is nice, but we want more troops and that's what we got. Supercell just announced four new cards, three are troops and one is the first Legendary spell ever. The first new troop is an Ice Spirit, like the Fire Spirits and costs two Elixir. It likely does similar damage (maybe less) and the ice slows down opponent troops. We're not sure how good they'll be, but we'll know soon enough.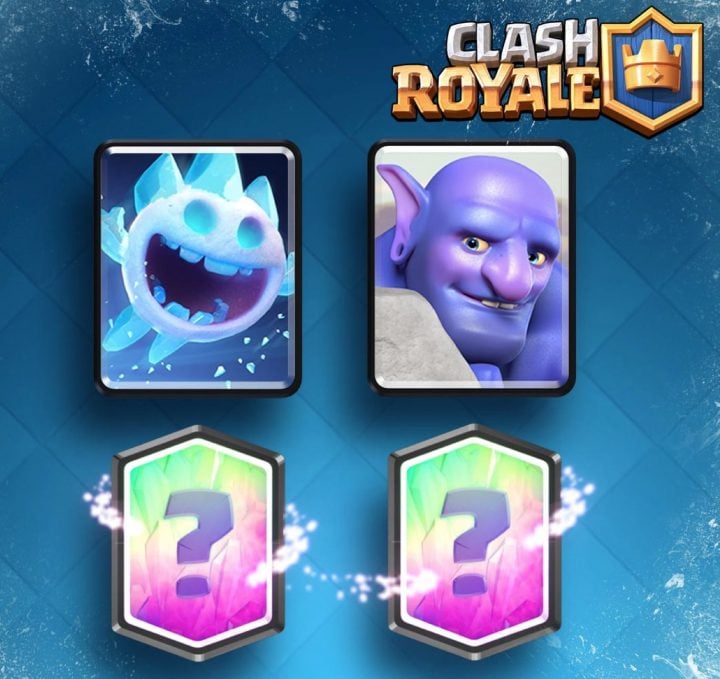 As you can see above, similar to Clash of Clans Clash Royale players will now have access to the Bowler troop. He throws large rocks at the enemy, which bounce and hurt multiple targets at once. So splash damage. He is 6 elixir, so expensive, but should be able to take down Barbarians and bounce again into the Tower or supporting troops behind it.
Legendary Cards
Then it what's probably the least exciting of the new cards, are two legendary options. Of course they'll be hard to get (but come in Tournament chests) and we have The LumberJack and the Log. The Log is essentially a poison spell, but Legendary, and a rolling log that slows down, knocks back, and takes out troops. Then the Lumberjack is the Legendary troop and carries an Axe like the Valkyrie.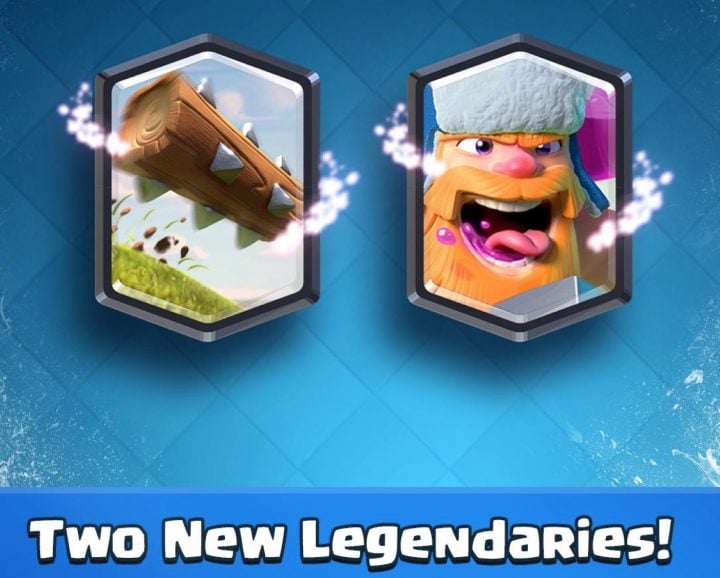 Here is a video of the new cards in action for those curious.
Clash Royale July 4th Update Changes
Tournament Mode begins
Skeleton Army: Skeleton count increased to 21 (from 20)
Goblin Barrel: Elixir cost decreased to 3 (from 4), Goblin deploy time increased to 1.2sec (from 1sec), removed impact damage
Giant Skeleton: Damage increased by 20%
Dark Prince: Damage increased by 8%
Bomber: Damage increased by 9%
Wizard: Attack speed increased to 1.6sec (from 1.7sec)
Inferno Tower: Hitpoints increased by 6% (Zap/Freeze resets power)
Elixir Collector: Now affected by spells/freeze/Ice Wizard
Tombstone: Hitpoints increased by 9%
Bomb Tower: Hitpoints increased by 6%
Along with the new Tournament mode it looks like Supercell is reversing a few changes from last month while bringing a few other cards and troops up to match others for the sake of balancing everything out.
The Dark Prince will be stronger to match its golden Prince brother, the Giant Skeleton will be 20% stronger to hopefully make it to more Towers, Bomber and Bomb Towers are getting a boost to make them more useful, the Elixir collector will now be affected by spells, which is huge. Now players can rage the Elixir collector for an advantage but the enemy can freeze, poison or zap it which will restart it's brew cycle.
Speaking of Zap and Freeze, both of those will now cause the Inferno Tower to re-target, which is a big deal because the damage increases the longer it's locked on. Meaning users will likely be able to Zap the Inferno Tower after a few shots and let the Royal Giant kill it, then proceed to wreck the Tower. The Royal Giant isn't slowing down anytime soon.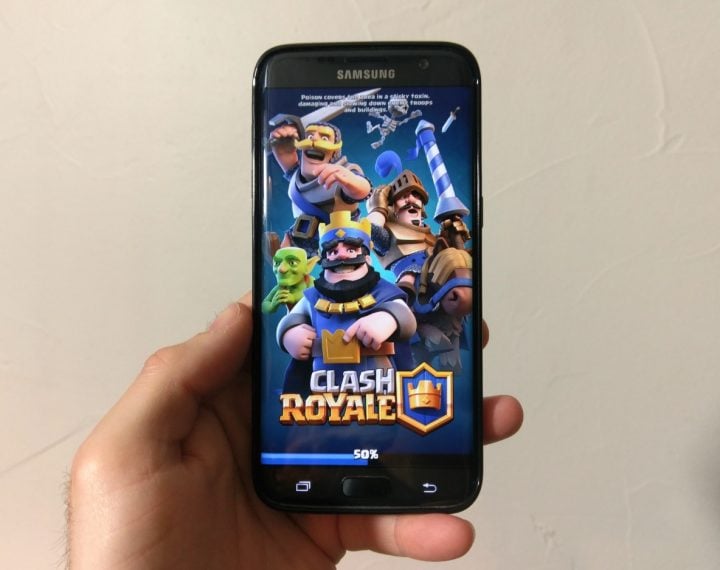 We see a few other new additions here like the Goblin Barrel being cheaper, which is a welcomed edition, but sadly troops like the Royal Giant and Sparky aren't getting a reduction, so they'll still dominate the game for now. It's worth stating that the Pekka Double Prince decks will be extremely strong with the boost to the Dark Prince now.
Tournament mode will allow players to earn lots of gold, gems and chests, possible legendary cards, and all these changes will be in effect at the same time. New Arenas should even out matchmaking and fix mismatch problems. Supercell also confirmed bigger Tournaments have huge rewards, and the player who comes in 1st place gets a Chest bigger than a Super Magical Chest, and is guaranteed Legendary cards. So that's a plus.
The update is scheduled for July 4th, which means users can expect it to arrive around 12:00 tonight or 3:00-6:00 AM PST in the United States. Supercell always releases updates early. So get ready, read up on the changes, save your chests and enjoy once it arrives. Good luck and Clash on.

As an Amazon Associate I earn from qualifying purchases.