Clash Royale May Update: 6 Details for Players
Since the global release date in March the hit new game Clash Royale has received a few small updates to fix bugs, improve gameplay and balance things out, but a bigger one arrived on May 3rd. The biggest Clash Royale update in history is here, and here we'll explain everything gamers need to know. From six new troops, double the rewards, to earning gold for every battle won and more.
Over the past few months Clash Royale has become one of the most popular games for Android and iOS. Taking many of the troops everyone loved in Clash of Clans, and adding them to an all-new real time action strategy game, and it's about to get even better. In recent weeks Supercell has been teasing many major changes, but now we have key details for players.
Read: May Clash Royale Update: 5 Things You Need to Know
The link above goes into fine detail about all of the small changes coming in the Clash Royale update. From double the rewards in Crown Chests, tons of game-balancing tweaks, card nerfs to make certain things less or more powerful, and much more. However, this weekend Supercell revealed some other extremely exciting details that should make this game better than ever and less frustrating. Read on for all the details.
We already knew that the May Clash Royale update was going to be a big deal, but no one expected it to be nearly as big as we now know it is. We knew donations were getting tripled, crown chests will have double the gold and rewards, and Epic cards are going to be a lot cheaper, and cheaper to upgrade, but that's only the beginning.
This update is aimed at making gameplay fair by getting rid of cheaters, adding live spectating to friendly battles, but it will also deliver slower deployment of the Mortar, shorter lifespan for the Bomb Tower or Canon, weaker Elixir pumps, and other changes to even out the game. Meaning it won't be so darn frustrating when you lose 5-8 battles in a row, because that shouldn't happen as often after all these huge changes.
Read: Decks to Reach Arena 6 in Clash Royale
While the information above is extremely important to overall balance to the game, make it fun or more fair, and other things, it's the information below that was just unveiled in the Clash Royale update that should have everyone excited. Below are six (or more) things every player needs to know about this game-changing update.
Clash Royale May Update Release Date
We've been told time and time that the next Clash Royale update would be ready in early May, but late last week Supercell confirmed the actual date. Today, May 3rd, we'll have a quick and short maintenance break and the update will hit the Google Play and Apple App Store. Sometime likely around midnight EST tonight, or during the day on May 3rd, it will arrive. Update: It's now live, go get the new Miner or Sparky troops.
Once the update arrives we'd recommend all players accept it, as you'll start earning a lot more gold, get more donations, be able to donate more and upgrade faster, and even get GEMS from the developers if certain epic cards are upgraded high enough. That's because they're lowering the price of epic cards, and refunding GEMS to those who already have them. So look for more goods, more gold, free gems, and tons of new stuff including six new cards or troops to unlock and battle with.
Spectate & Replays
Supercell has added a few additional aspects to Clash Royale in the May update to help clans watch friendly battles, players learn from watching others, and to improve tournaments. Friendly battles will now have a live-spectating option so we can watch our clan-mates battle in real-time, and even throw confetti on the side of the map for who you'd like to win. Or, to distract the other players.
Live spectating should help us watch how good players use elixir and deploy troops, their mindset, and just be better overall.
TV Royale will also show replays from any arena, rather than only the top. Watching the best players in the world fight with cards we don't own doesn't do us any good. So after the update we'll be able to catch replays from any arena. This is a welcomed change.
More Rewards and Gold for Every Battle
We knew Supercell was working hard to increase the speed in which players could upgrade, earn cards or gold, and enjoy the game. Right now it's extremely slow and starting to lose some of its allure. However, after the May Clash Royale update everyone will have more opportunity, and more gold for upgrades. We knew about some of these, but here's the full list of gold and reward changes.
Gold: Receive Gold for each win, even when your chest slots are full
Crown Chest: Contains twice as much!
Super Magical Chest: Chance to drop doubled!
Giant and Magical Chests: Chance to drop increased!
Donations/Requests: Increases as you reach higher Arenas
Card Shop: Legendary Cards can appear once you've reached the Legendary Arena
Players will receive gold for each battle won, even when chest slots are full. This gives us more incentive to play, as gold is extremely important for upgrades. I have about 23 upgrades I can do right now, but absolutely no gold to upgrade them. This should help that problem across the board for all Clash Royale gamers. The higher the arena, the more gold you'll win for each battle. Up to 20 gold per game.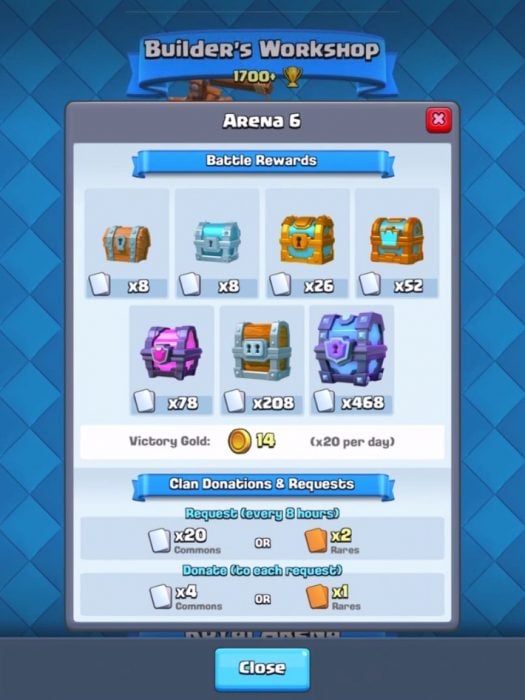 Crown Chests have double the rewards (once you get 10 towers in battles) and the Super Magical Chest will appear twice as often. Yes please, that's where I got my Three Musketeers card. This is all very good news for those like myself getting stagnant in Clash Royale. There is bad news though. Regular chests now have less gold and less cards, but the developer claims the gold reward for each battle will still be more than enough to make a big impact on gameplay. We hope that's true.
Six New Troops (Cards)
Perhaps the biggest news of all, is the May Clash Royale update is delivering six new cards for us to enjoy. Three were unveiled yesterday, and late last night the other three were shown off, and they're amazing.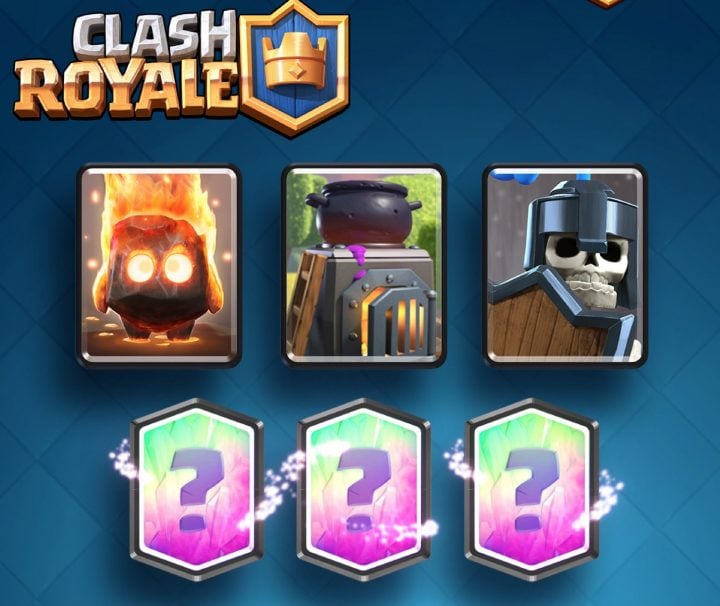 Fire Spirits: These three Fire Spirits are on a kamikaze mission to give you a warm hug. It'd be adorable if they weren't on fire.
Furnace: The Furnace spawns two Fire Spirits at a time. It also makes great brick-oven pancakes.
Guards: Three ruthless bone brothers with shields. Knock off their shields and all that's left are three ruthless bone brothers.
The Fire Spirits appear to be a small, cheap (like 2-3 Elixir) card similar to the skeletons or minions that will do heavy damage to attackers. Perfect for defense or distracting an incoming Prince or Giant. Then the Furnace delivers two Fire Spirits at a time, which is one less than the other card, for those who enjoy using spawner decks.
Our third new troop are called "Guards" and are aimed specifically at defense to take on the popular new trend of using double Prince cards. It is three little bone-brothers similar to skeletons wielding shields to stop the galloping Prince or Archer arrows. The first damage takes down the shields, then we still have to take down all three little guards to proceed.
Three Legendary Cards
Three additional cards were hiding in the teaser above, and they're all legendary cards. The Miner looks to be my favorite, which can be deployed on the enemy side of the river, but Sparky is the hardest new troop to deal with, as shown in the video above.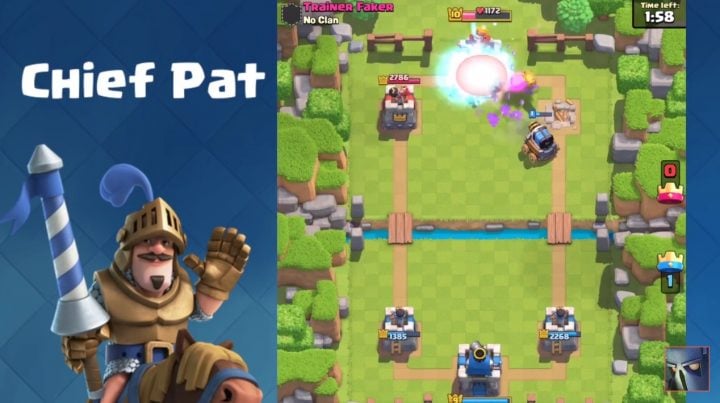 New Legendary Cards: Lava Hound, Miner, Sparky
The Lava Hound works just like in Clash of Clans, and is like a Golem for the air. When it dies 4-5 more spawn that are smaller. Sparky is like a Tank with a Tesla tower on the front, which shoots waves of electrocution to buildings and deals heavy heavy damage.
Supercell has stated time and time again they're more interested in offense, to keep the game exciting, rather than nothing but defense. That's exactly what these new cards are doing. Shaking things up and adding some serious new ways to enjoy the game. Try them today, or check out the revamped store with cheaper upgrades and more cards to buy.
Other Changes
Of course there is a lot more to the Clash Royale May update than what we've detailed here. The link at the top of the game goes over all the small changes, and there are a lot of them.
It's also worth mentioning that the game will have a lot of visual changes after this update as well. Small little graphical improvements for refinement and polish. The freeze spell has little pieces of ice and snow on the ground, balloons look different and more. Here's a list of what's new that I've noticed so far, but surely I'm missing a few.
Freeze Spell Has New Look
Rage Spell Has New Look
Zap Has New Look
Balloon Has New Look
Golem Has New Look
New Clan Emblems And Flags
You Can Throw Confetti In Friendly Battles
The Card Shop Has A New Look
You Can Buy 3 Legendaries Costing 40k, 80k And 120k
You Can Buy All 56 Cards At Once With One Button
That's it for now. The update is live on each app store and ready for download. Get ready to adjust strategy to work with six new troops, earn extra gold for upgrades and much more.

As an Amazon Associate I earn from qualifying purchases.