Clevo TN70M Convertible UMPC/Tablet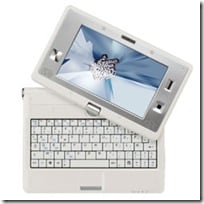 Clevo slid under our radars again with their new TN70M available now for purchase. In March 2008, we missed the TN120R announcement, which turned out to be a 12.1" convertible tablet that was very customizable. The TN70M is Clevo's latest foray into the realm of convertible tablets, this time competitively flirting with Asus' upcoming T91 and T101 tablet netbooks. The 7" TN70M runs an Intel Atom Z520/530/540 processor with speeds from 1.33GHz to 1.83GHz. The fully customizable TN70M offers two different screen resolutions, 800×480 or 1024×600. More information and detailed specifications can be found at Clevo's site. Check out the demo video after the jump.

As an Amazon Associate I earn from qualifying purchases.