Cloud Storage Cost Comparison: Which One Is Best?
When it comes to choosing a cloud storage service, which one offers the best value?
Cloud storage is becoming increasingly popular. This is mostly because it allows you to store all sorts of files and access them whenever and wherever you want, as long as you have a device that can access these files.
Perhaps the best part, though, is that your files aren't stored locally on your computer or mobile device, but rather in the cloud. Of course, when we mention "the cloud," we're essentially referring to what is for some a magical place on the internet where everyone's files are stored, but it's really nothing more than a remote server farm that houses all of your photos, videos, etc.
There are a handful of cloud storage services that you can choose from: Dropbox, Google Drive and OneDrive are some of the major players in this market. They offer various competitive features in order to gain their users. However, it really comes down to price for many consumers; getting the best value overall for their hard-earned dollar. That is why cloud storage cost is such a big deal.
We'll be comparing six popular cloud storage services and trying to find which one offers the best value: Dropbox, Google Drive, Microsoft's OneDrive, Apple's iCloud Drive, Box or Amazon Cloud Drive.
iCloud Drive doesn't really compare to the other cloud storage services because it's really not quite the same — there's no standalone iCloud Drive mobile app for the iPhone or iPad. But you can at least get a file explorer-type view of your iCloud Drive files on Mac, just as long as you're running OS X Yosemite or newer.
Here's how these six cloud storage services compare to each other and what you should look out for when shopping for one to use.
Cloud Storage Services Compared
Below you'll find a handy chart that gives you lets you quickly compare six cloud storage services with ease.
Perhaps the two most important things to look for when deciding on a cloud storage service is the amount of free storage you get, as well as the price-per-GB, if you choose to go with a paid plan.
For many users the free tier is the most common option, as you can use it to store a handful of files without paying anything. The more free storage you have, the better (obviously).
When it comes to paid plans, you want a plan that gives you as much storage as possible for the lowest price possible. Of course, there are other factors like different features, device support and the overall cost, so keep those in mind as well.
| Cloud Storage Service | Price per GB | Plan Costs | Free Storage Amount | Earn Extra Free Storage? | Maximum Storage |
| --- | --- | --- | --- | --- | --- |
| Dropbox | $0.008 | 1TB for $99/year | 2GB | Yes | 1.016TB |
| Google Drive | $0.01 | 100GB for $1.99/month, 1TB for $9.99/month | 15GB | No | 1TB |
| iCloud Drive | $0.02 | 20GB for $0.99/month, 200GB for $3.99/month, 500GB for $9.99/month, 1TB for $19.99/month | 5GB | No | 1TB |
| OneDrive | $0.007 | 100GB for $1.99/month, 200GB for $3.99/month, 1TB for $6.99/month | 15GB | Yes | 1.02TB |
| Box | $0.01 | 100GB for $10/month | 10GB | No | 100GB |
| Amazon Cloud Drive | Infinite | Unlimited photos & 5GB for $11.99/year, unlimited storage for $59.99/year | Unlimited photos & 5GB with Amazon Prime | No | Infinite |
Now, let's go over each cloud storage service briefly and highlight the pros and cons of each one.
Dropbox
Dropbox is perhaps the easiest service to use out of the bunch and the simple user interface helps make that happen.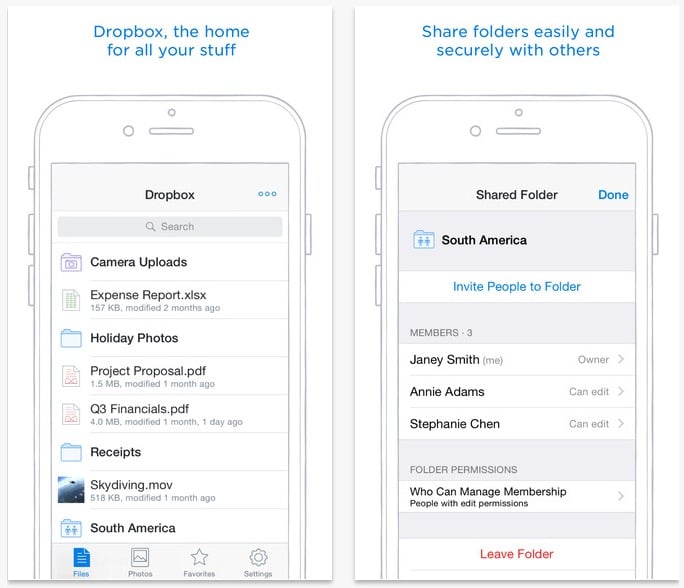 Plus, there are Dropbox apps for pretty much every platform and device you can think of. So whether you're an iOS, Android, Windows Phone or even a BlackBerry user, it's all the same to Dropbox.
The desktop apps, especially, blend in well with both Windows and OS X, making it easy to add and remove files from your computer. Perhaps the biggest downside of the service, though, is that you only get 2GB free, which is the least amount of storage out of the six services compared. However, that's usually enough to store most of your important files and Dropbox makes it really easy to earn more storage anyway.
Google Drive
Google Drive is a lot like Dropbox in that the desktops apps also blend in well with the stock file explorers in Windows and OS X. But Google Drive might be the superior service for avid Google users since it seamlessly integrates with Gmail, allowing you to save email attachments directly to Google Drive and even attach files to an email from Google Drive.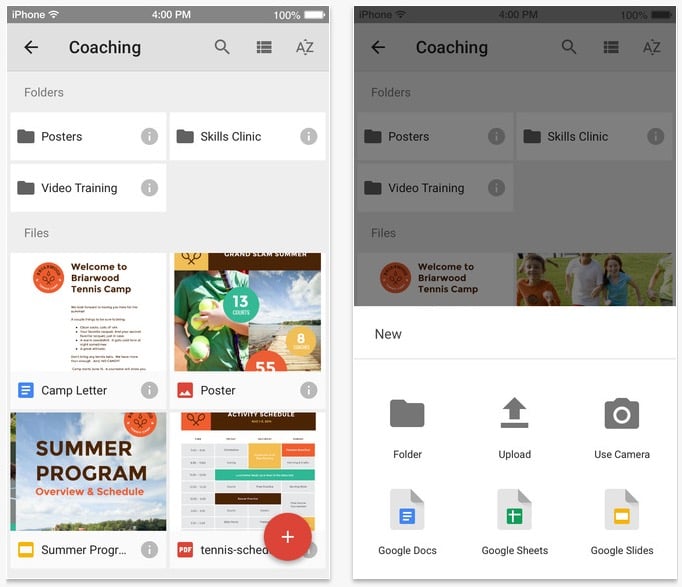 Plus, Google Drive offers a solid 15GB for free that's shared with Gmail, giving you plenty of space for your files without paying anything.
However, uploading photos from your phone is a kind of a pain. The app can automatically upload photos that you take to your Google+ profile, but there's no way to have them sync to the Google Drive desktop app.
OneDrive
Without a doubt, OneDrive is the best cloud storage service to use if you're a Windows user. It works seamlessly with Windows and Windows apps and if you're running Windows 8 or newer, it's already built into the platform.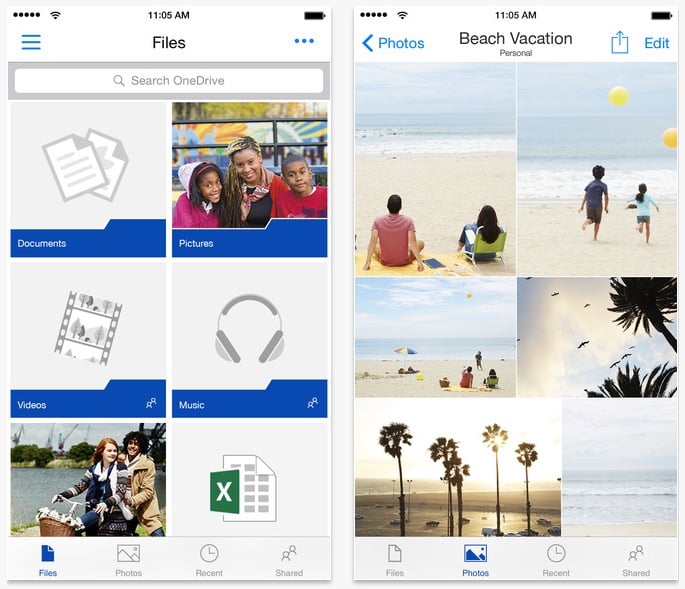 It works great with the Office apps, allowing you to open and save files right from OneDrive without any hassle.
There is still appeal for those who aren't Windows users, since there are Mac and iOS apps available. But you have to sign up for a Microsoft account in order to use OneDrive, which really isn't worth it, especially with other cloud options available.
iCloud Drive
iCloud Drive is Apple's own cloud storage service and it works seamlessly with all Apple products running iOS 8 or newer and OS X Yosemite and newer. It's a bit limited compared to an actual cloud storage service, since there's no standalone iCloud Drive app for iOS. Because of that, you can't really access any of your iCloud Drive files like you would with Dropbox or Google Drive. Plus, its paid plans are a bit on the expensive side.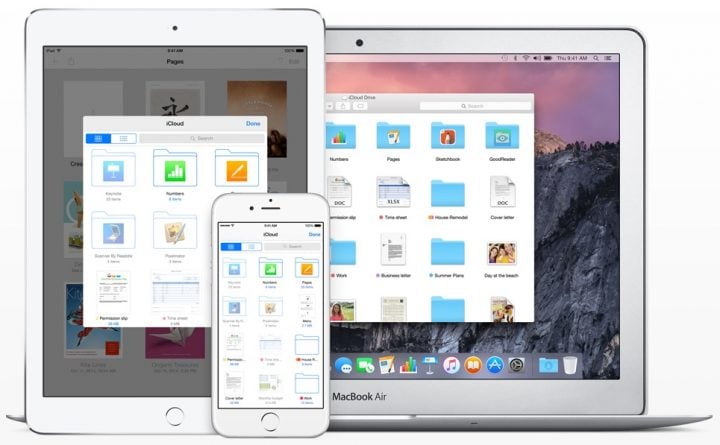 However, the biggest use for iCloud Drive is probably storing photos, thanks to iCloud Photo Library that automatically syncs photos that you take with your iPhone to your Mac and other Apple devices.
Even if you use iCloud Drive, we'd recommend using something else, like Dropbox, in order to have a true cloud storage service at your fingertips.
Box
Box is great for collaboration, so it's perhaps the best option for students and small businesses, but it can be used by anyone. Plus, you get 10GB for free, which is pretty respectable. While Google Drive offers more storage for free, it has to be shared with Gmail, making it a bit inferior because of that.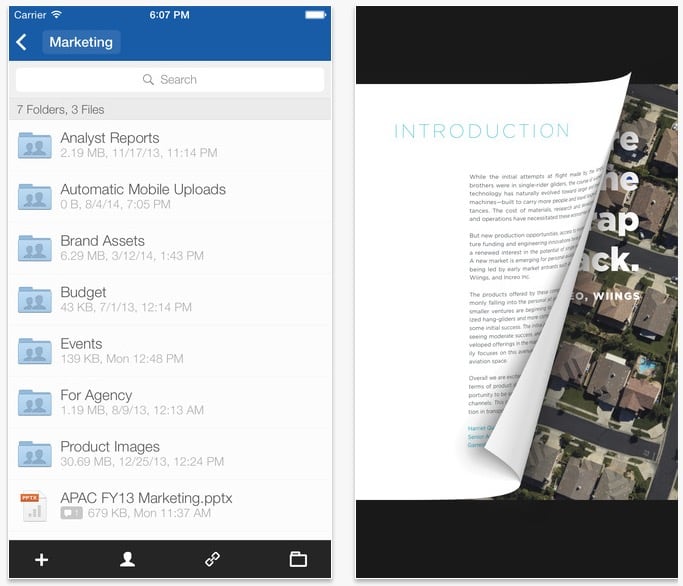 Box has the features that make it a good and simple cloud storage service, but it's probably a bit too much for users just looking to simply store their photos and other files.
Box does have a business plan that offers unlimited storage for just $15/month but, again, it's mostly just aimed at businesses rather than individuals.
Amazon Cloud Drive
Amazon Cloud Drive is a unique option and it may be the best option for those who have a ton of photos that they're wanting to store in the cloud.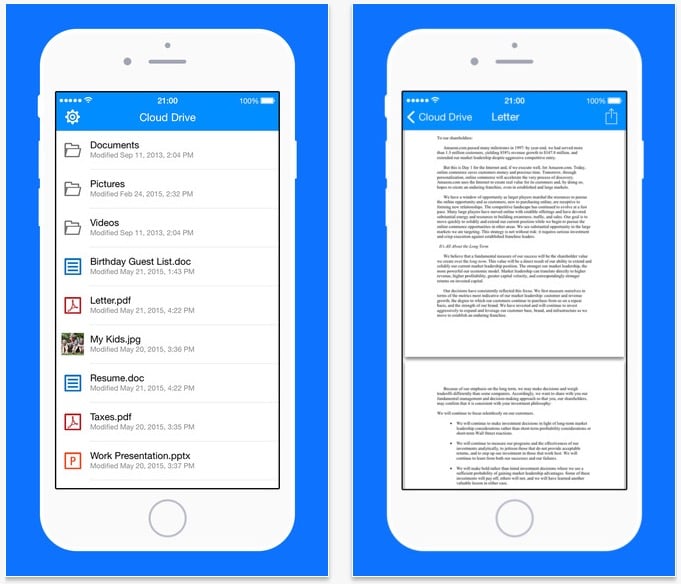 The service offers unlimited photo storage and 5GB for other files for free for Amazon Prime members ($11.99 per year otherwise) and if you use Amazon at all, you probably already have Prime.
Amazon Cloud Drive is also the only service out of the six that offers a non-business plan where you can store an unlimited amount of files. This costs a very reasonable $59.99 per year (or $5 per month).
Which One Should You Use?
When it comes down to it there is no right or wrong choice and the cloud storage service that you should use can depend on what devices you use.
Dropbox is great for any platform, while OneDrive, Google Drive, and iCloud Drive are fantastic for Windows users, Google users and Apple users, respectively.
If you're looking for the best value, though, Amazon Cloud Drive is technically the one to go with, since it offers some kind of unlimited storage. Since many people likely already have an Amazon Prime membership they won't have to pay a cent for it.
OneDrive also offers a good value at $0.007 per GB, with Dropbox close behind at $0.008 per GB. However, if you're looking for the cloud service that offers the most free storage, OneDrive gives you 15GB for free with the chance to earn 20GB more, giving you the potential for 35GB of free cloud storage.