CloudOn App Lets You Work with Your Microsoft Office Docs on the iPad
Yesterday Kevin posted about the OnLive Desktop App and service that will allow iPad users to have a virtual Windows 7 desktop on their Tablet. While CloudOn isn't a full Windows desktop experience, instead focusing on creating and using Office documents, we are starting to see a trend here and there is even some noise about Microsoft bringing some of its Office Apps to iOS. Obviously iPad users are looking to use their Tablets for some office work and developers are doing their best to provide them with alternatives.
CloudOn at the moment is a free App and service. Keep in mind that after releasing the App last week, CloudOn very quickly announced that it was "sold out," which I'm guessing means that their servers were melting down from the interest. No one had ever heard of a digital App selling out before, but I'm guessing here that this could have something to do with licensing with Microsoft. But CloudOn appears to be working again at the moment.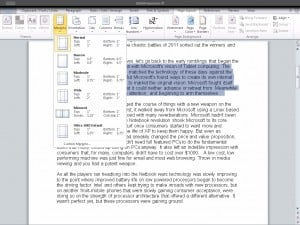 To use the App you create a CloudOn account and link it to your Dropbox account if you have one. You can also create a free Dropbox account once you sign into the App for the first time if you don't have on. From there you can choose to work with or create an Excel, Powerpoint, or Word document using the familiar ribbon interface of Microsoft Office.
I've given CloudOn some rudimentary testing and it seems to work as advertised. Obviously you're going to be touching the screen quite a bit and there are some responsiveness issues occasionally making a selection, but on the whole this works reasonably well for something that is just getting off the ground. If you're using one of any number of Bluetooth keyboards this could make for an easy and curiously free option (for the moment) to do some work with your Office documents if that's the environment you prefer or are locked into via your workplace. Dropbox is the key here as saving files to your Dropbox allows you to have access to them across devices. That's something that Apple still hasn't completely solved with its own iCloud. Others are rushing into the fray in the void that Apple is leaving open. And certainly there are other options available that also allow you to work with Office documents via Dropbox.
As to that free thing, you'll notice in the settings that there is a Remaining Time selection. The folks behind CloudOn have hinted that the App may not be free forever adopting some sort of tiered or time limited pricing structure. But for the moment the App and service is free. Which is good because it looks like they have some back end things to iron out still.