CM4 Q Card Case for iPhone Review
The CM4 Q Card case for iPhone 5 simplifies things for users by turning their iPhone into a wallet that can hold some cards, a little cash or other personal items. This protective iPhone 5 case also adds some optional color but suffers from a cheap look and feel.
CM4 designed the case using what they call "soft-touch rubber and fabric" which covers most of the back and edges while also adding a pocket on the back. Like most wallet cases it doesn't hold more than a couple of cards and just a little cash. We put a few business cards, one credit card and a little cash and that maxed out the back pocket.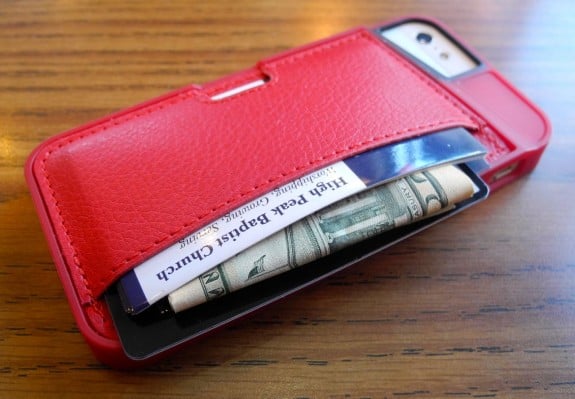 Our first impression wasn't good. The back edges felt sharp and the pocket looks like low-quality faux leather. The soft touch rubber isn't smooth and doesn't feel soft at all.
[ratingbox]
The front edges keep the phone's screen from contacting the surface when the person lays it down flat on a table or desk. CM4 calls it a "lay flat screen guard design". We don't know if this really adds that much protection. In many years of iPhone use we've never damaged a screen by laying the phone face down on a flat surface. Even if a person laid the phone on a sharp item, the raised edges would protect the screen from only extremely small items.
The case includes openings for all the necessary holes and ports as well as the back camera. The case makes it easy to use the power and volume buttons. The design lets the user take advantage of a Lightning to 30 pin adapter.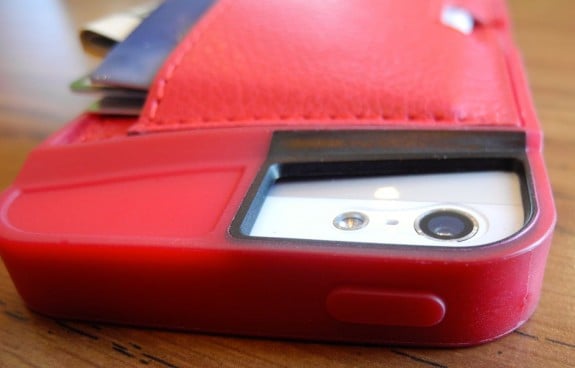 Like all wallet cases, the CM4 Q Card limits how much one can carry in the pocket. One credit card, a few business cards and a little cash made a big bulge. Holding the phone with that much tucked in the pocket feels strange. That's a preference issue. Some don't mind and like wallet cases. The user must choose whether this will annoy them or not.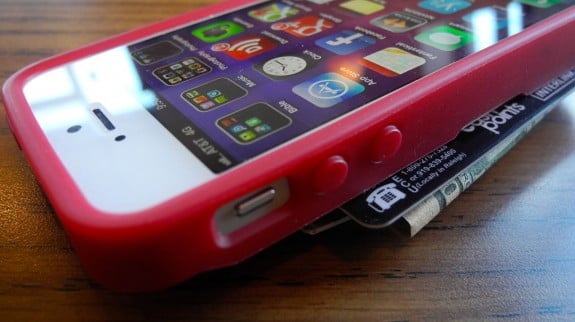 People who don't like wallet cases will hate the Q Card case. Those who do still likely won't enjoy using it. The case costs $39.95 but feels more like a budget case one would buy for under $20. CM4 offers the case in four colors, and the red on white we tested looked attractive at a distance.
We can't recommend the CM4 Q Card case for iPhone 5 due to the sharp edges on the back, and the poor quality feel of the materials used to make it.

As an Amazon Associate I earn from qualifying purchases.