CNET reviews the HP TC4400 Tablet PC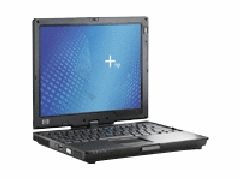 While we are still trying to get our hands on a TC4400 to review ( hint, hint HP ), CNET has just published their review of the business class Tablet PC.
They give it a 6.8 out of 10 based on weight, base configuration of RAM, and lack of FireWire and optical drive.
They offer this commentary on doing some benchmark comparisons with the Gateway M285E and Fujitsu T4215.
Because the tc4400 is physically identical to its predecessor, please read the full review of the HP Compaq tc4200 for complete details about the tablet's design, features, and warranty.
Where the two models differ is in components. Though HP offers several configurations of the tc4400, our $2,099 review unit included a high-end 2.16GHz Intel Core 2 Duo T7400 processor, 512MB of swift 667MHz RAM, an average 80GB, 5,400rpm hard drive, and integrated Intel 945GM Express graphics that borrow up to 128MB of system memory. On CNET Labs' performance benchmarks, the tc4400 kept pace with the Gateway M285-E and the Fujitsu LifeBook T4215 in the iTunes encoding and office productivity modules. The tc4400 was hobbled, however, by its scant RAM when it came to the multitasking and Photoshop benchmarks; it was easily bested by its two tablet competitors, each of which had twice as much RAM.
I do agree in regards to RAM – all base systems should start shipping with 1gb of RAM. However, I'd also expect a system with half the RAM of other systems to perform lower, so pointing that out as a negative in terms of performance doesn't make complete sense to me. I'd prefer them to test the models on a comparable basis and line them up price wise then. That makes it more of an apples to apples benchmark test.

As an Amazon Associate I earn from qualifying purchases.