Coffeetable computing – notebooks, netbooks, ipads, slates, and you…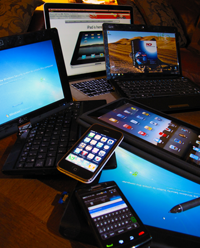 Last we visited, I was questioning where Netbooks fit in my mobile life.  Since that time I've traveled with a variety of Netbook hardware, (brief comments on each below), the iPad arrived on the scene, and I continue to love my Motion J3400.
Before all of the questions of where each of these approaches to mobile technology fit, I thought I was happy; slate with mobile keyboard on the road, big iron in my office.  When Netbooks appeared on the scene I couldn't understand what niche they filled for end users.  But true to my mobile geek I ordered one, (an HP1101), and dutifully carried it in my briefcase on trips within in the US and to Europe.  To my surprise it started to make sense.  In fact, the form factor started to define a new niche of use; the casual computing device.
Then came the iPad, making even my new, narrow niche a bit cloudy.  But now it's starting to make sense again, and a new genre of technology consumption has been added again: Coffeetable computing.
First the hardware, in the order reviewed:
Motion Computing J3400 Slate – Take a look at my original review here.
HP Mini 5105 – Take a look at my original review here.
Both the above posts are still valid, although the lack of an SD card slot in the J3400 coupled with the fact that all the ExpressCard SD adapters I could find cause the SD card to stick out the side about 1/2 inch irritates me.  This doesn't diminish the brilliance of the J3400, but more on that later when we compare how each of these tools work.  The HP's keyboard did begin to wear on me a bit, and the small display and poor battery life truly diminished the overall experience.
Since the HP experiment I've traveled with two other Netbooks; an Asus Eee PC 1101HA and an Asus Eee PC T101MT.  In the next couple weeks I will be trying out the Asus Eee PC 1215, and a Dell Mini 1012.  I'll briefly comment here, and write up longer reviews in the near future.
Asus Eee PC 1101HA (Now replaced by the 12″ 12xx series)
After I passed the HP Mini 5105 to another traveling professional, we searched for a Netbook that corrected the issues with the HP in a similar price point.  The recommendation of Asus' Eee PC 1101HA fit the bill.  Atom Z520 processor, 11.6″ HD display (1366×768), 1G RAM, 802.11 b/g/n, Bluetooth, 1.3 M pixel camera, 160G hard drive, and rated at 9.5 hours battery life with the standard battery.  In general, it looked a bit slower than the HP, but everything else appeared to be perfect.
I carried the 1101HA for a couple months, and it lived up to our expectation.  The keyboard is excellent, and while various issues such as the home and end key requiring also pressing the Fn key were still annoying, Asus intelligently put a second, small Fn key by the arrows to make this a one-handed operation.  The performance was very good, battery life lived up to the advertised time, and the display is very crisp.  The HD (widescreen) display feels a little "short," and there is a lot of scrolling on more complex web pages.
However, Asus (in both the 1101HA and T101MT) has included a great multi-touch touchpad, with simple two finger gestures for vertical and horizontal scrolling, image rotation, etc.  At approximately $450 for a unit configured with 2G of RAM, I found the 1101HA to be an excellent tool for mobile users, and a very good value.  A brief preview of the 1205 from Asus shows the same promise, although more limited battery life.  I'm waiting to get hands on the 1215 to see just how good the NVIDIA's Optimus, USB 3.0, and Intel D510 come together.  If you're looking for a Netbook right now, wait to see the price point on the 1215.  I've heard it's expected in July.
It looks interesting; a 1.66Ghz Intel Atom N450 processor, 1GB of RAM, 160GB hard drive, 802.11b/g/n WiFi, Bluetooth 2.1, and a 0.3MP webcam.  There's a convertible 10.1 inch, 1024 x 600 pixel resistive touchscreen display coupled with "PenWrite" technology to provide a "smooth writing experience," (according to Asus) and a stylus tucked in the screen bezel.  With a 35Wh battery rated at 6.5 hours, touch, pen, and the Pine Trail processor it appeared to be an excellent, compact mobile device.
The short version of the review is just skip it.  Resistive touch-screens just don't have the responsiveness, and the coating leaves the display on this unit a bit fuzzy.  The touch felt a bit laggy and imprecise (no matter how many times I calibrated).  "PenWrite" technology simply reconfigures the touch screen to only accept a small contact area, thereby eliminating the detection of your palm, finger, etc.  It's effective at focusing on the stylus input, but the inking experience is terrible.  Too much force is required and the Eee can't keep up.  We digital inkers all know the rule; if there's no active digitizer, you're probably sunk.  (In response to Steve Job's comment that if you see a stylus then the hardware has missed the point (sic), I heartily disagree.  If you're going to have a slate or convertible and you don't have an active digitizer with tools like OneNote or Evernote, then the hardware has missed the point.)
Performance was good to very good on the T101MT.  In the context of being a Netbook, it never lagged unless I pushed too hard.  It begs for an SSD rather than a standard hard drive, but that is cost prohibitive.  Battery life was around 5 to 5 1/2 hours, easily getting me across the country on a couple flights.  In summary, while it succeeds as a Netbook, the T101MT simply isn't worth the premium for the convertible screen and touch capabilities.  The system costs approximately $500, but comes with Win7 Starter which lacks multi-touch capabilities.  Upgrading to Win7 Home Premium to get multi-touch will run approximately $80.
Features and performance of the iPad have been covered ad-naseum, so I won't go into a long review here.  I think it is brilliant but flawed.  It's brilliant because Apple is so obsessive over the user experience; there's no lag, the UI is beautiful, the oleophobic display is gorgeous, and it simply works as it should.  It is the device that will finally bring slate computing into the general consciousness; something Microsoft and others have been trying to do for over a decade.  Most flaws are minor and will likely be corrected in the next iteration of the hardware; there should be a camera, there should be a slot for external memory such as SD cards.  However, it's critical flaw is the lack of active digitizer and true ink capability.  Yes, that is my mantra.
Luxo's Hierarchy of Computing Needs
But hardware is only part of the story.  I've not even touched on the communication side of this; which cell phone, which 3G or 4G card, etc.  (I carry a Blackberry Storm 2.)  The real question is how do all these devices fit into our lives, both at home and on the road?  How do they enhance and improve our lives while avoiding technology hangovers that result from tech that is too "fiddily;" too cumbersome to add to our daily activities, but at times too cool to leave behind?  If we can define our expectations perhaps we can easier decide what goes in the bag and what stays behind while ensuring our own tech consumption needs.  To wit, through my struggles to understand where these devices fit, I've created a few categories which I have, with apologies to Maslow, titled the "Hierarchy of Computing Needs."
Professional Computing
This one is easy.  These are the big desktops and workstations that sit on or under our desks.  There might be two or three displays attached, and an incredible array of cables.  Lots of power, memory, storage, and connectivity in a form factor that is as portable as the desk itself.  However, these devices often provide a home base to which all others are synchronized.
Home / Media Consumption Computing
Many devices fit into this category, but it is defined by those that provide access to media of all sorts, house recipes, budgets, manage your pictures and videos.  Usually mid-power devices, both portable and not, they are used throughout the home and office, but often have a specific spot where they live.
Portable Computing
Business laptops, desktop replacements, and lugable tech fills out this next level.  Devices in this category often provide broad functionality on the road, but are saddled with short battery life and high weight.
Casual / Mobile Computing
Lower power, more portable and better battery life devices define this category.  Perfect for casual travel, staying on top of e-mail, perhaps reviewing the occasional document, etc.  Devices like Netbooks, iPhone, smart phones, etc. populate this space.  In my corporate life we have defined a standard for travelling professionals that includes a powerful desktop, and a casual computing device such as a Netbook.  This approach is cost effective, as the combination is still less expensive than a desktop replacement laptop.
Coffeetable Computing
This is a category that didn't exist, at least in my head, before the iPad arrived.  It's defined as devices that we keep close at hand for the occasional instant message or e-mail, or to answer questions like "Hey, what else was that guy in?" while watching a movie.  I believe coffee table devices will eventually be ubiquitous in most homes, simply a part of the "standard" home network that has become so common.  All devices in this category should support touch and ink.  I don't feel Netbooks fall in this category, as Coffeetable devices should be slates.  There's a barrier created by a traditional clamshell laptop or Netbook that detracts from the purpose of these devices.
What do these categories mean?
Few of these categories are mutually exclusive.  There are many devices that float between them.   My beloved Motion J3400 can be both a casual and portable computing device.  It has appropriate power and capacity to perform more complex tasks while traveling such as software development, business intelligence functions, etc.  It's also small and light enough, with reasonable battery life to provide casual computing.  However, it's lack of touch input and size exclude it from the coffee table category.
The iPad defines the Coffeetable category, and is capable of rising to the casual computing realm, especially when coupled with a portable keyboard or the brilliant Clamcase.  However, the closed nature of the App Store prevents it from rising higher in this hierarchy.
Netbooks falls solidly in the casual computing category; what they lack in power is immaterial here, but prevents them from being defined as portable computing.  They are extremely portable, and especially useful when stuck in a center seat in coach on a long flight.
Once we understand the intent of each level of this hierarchy, we can make decisions as to what device is needed in all situations.  For example, when traveling on business I usually carry something from the portable computing group.  When on vacation I may choose a casual device, or even a coffee table device.
A dear John letter to hardware and software designers
Three important points about today's technology consumption that all designers should think about:
1. Understanding the end-user's habits is critical to good hardware and software development.  In the realm of Coffeetable computing, hardware designers need to provide creative charging solutions.  If an iPad is to sit next to my couch, ever ready to answer a question or keep me connected while relaxing, it needs to always have power.  Docking stations fit the bill at times, but what if it is to sit, well, on the coffee table?  Innovations in wireless power may eventually resolve this, but today the best options are inductive charging mats.  I like my wireless devices to be wireless, and that power / charging cord is irritating in this category.  Perhaps Apple could provide us with the iCoffeeTable, which doubles as a charging mat for our iPad, iPhone, Macbook Air, etc.?
2. Stop ignoring ink.  The advocates of active digitizers and electronic ink are few but fervent.  "Ink" implementations such as we see on the Asus Eee T101MT simply further the myth that ink is clunky and unnatural.  True ink, as found on most tablet PCs, is a natural interface with few constraints.  If the iPad had an active digitizer, I would likely have several of them in my possession.  I understand software solutions for palm rejection exist for the iPad, but they provide a clunky ink experience, and tools like OneNote don't exist.  Evernote is out there, and certainly allows you to consume your notebooks and provides rudimentary editing on the iPad.  Future releases of Evernote for the iPad will certainly improve the experience, but without true digital ink it won't rise to the level of a traditional tablet PC.  Ink coupled with touch, and a simple way to switch between the two, provides a very natural human-technology interface that makes sense to anyone.  My four year old daughter can do just about anything on my tablet, or my wife's HP Touchsmart.  She gives me a dirty look when I give her a Netbook, sighs, and works the touchpad with a rather pained expression.  Running user interface studies using toddlers might be a bit radical, but maybe it is time?
3. Keep us in sync!  I'm a proponent of cloud storage, but it should also be synchronized for offline use.  If the industry expects me to have a professional computing device at the office, a portable or casual device for travel, and a coffeetable device for my living room, I need my information to exist everywhere.  Note taking applications like OneNote and Evernote understand this, and create a seamless experience as we move from one device to another.  But what about my music, pictures, videos, , documents, letters, writing?  Synchronized cloud storage may be the answer.  Companies like Nomadesk are starting to understand.  I'm working on a review of Nomadesk and others like them.
… in conclusion
Understanding the capabilities of each device, coupled with one's expectations of how they will use them, is key to managing one's mobile technology.  The advent of Coffeetable Computing is an exciting event.  Technology is moving from something we plan to use to something more like a commodity to be consumed whenever we have a fleeting query, or a moment of peace in which we want to check on our worlds.  Over time these categories will be refined, and perhaps new ones will appear.  Today, choose carefully based on what you want from each tool you purchase, else you may wind up with a pile like to picture that opened this post.
What do you think?  Do these categories fit your tech, or have I missed something?  Questions, comments, and criticism are always welcome.