Coincidence? OLO Concept and Apple's New Touchpad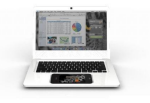 The timing of this struck me as odd as Apple headed to its new MacBook announcements this week. As Rob pointed out the new trackpad has some interesting potential. I'm waiting to see some hands on reviews (or is that fingers on?) of how folks take to a trackpad without buttons on a glass screen. That said, in the days leading up to the announcement, OLO Computer releasesd a teaser of a concept (read that as no where in real sight yet) of a kind of Foleo/Redfly like clamshell for the iPhone. The idea behind the concept is that you slap the iPhone into the clamshell and use it to power the device as well as the trackpad.  
As just about anyone who has covered this so far has pointed out there are a number of questions that would need answering before anyone could get really excited about this. Especially in light of the Foleo's failure and the the fact that Celio has sliced the prices considerably on the Redfly.  

As an Amazon Associate I earn from qualifying purchases.