Color coding your folders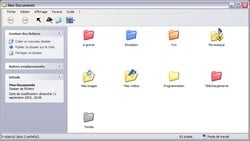 I'm one of those guys that likes to color code things. When beta testing Office 2007, I created categories and color coded them. Then when I had appointments or tasks, I associated them to that category. Seeing that color show up throughout Outlook in appointments or tasks, really helped me to immediately associate it with a project, client, or status.
While reading Jeff's MissionaryGeek blog this week, I came across iColorFolder ( free download )that lets you apply colors to folders, as well as various skins. I'm not that much of a skinning person, but I've already found the color coding of folders something that immediately appealed to my organizational bent.
Enjoy.