Color e-Ink Screens On The Horizon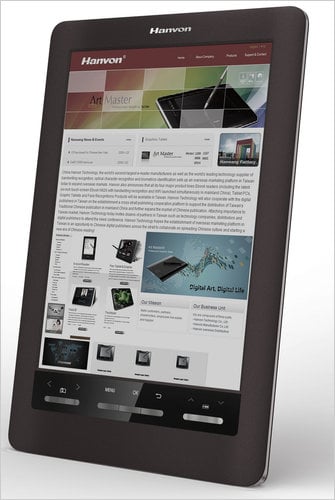 We've seen Barnes & Noble announce a Nook with a color screen for its eBook Reader, but that's an LCD display. Color e-Ink screens are the development that everyone is looking down the road for. Well, it looks like we might be seeing the first iteration of that. Although Amazon and Sony are still not ready to go yet, and there are technological reasons why not, Hanvon will be releasing a color e-Ink reader at the FBD International trade show tomorrow according to the New York Times. It will be available in China in March for a price starting at $440.
The company behind the technology, E Ink Holdings says that this works by still using a black and white technology for the e-ink display with a color filter overlaid on top of that. This allows for the same type of battery life we're used to seeing in these e-Ink based devices. Colors are not as bright or saturated but supposedly it can be read in bright light even though the color filter reduces the brightness of the display in those conditions.
Image and link via The New York Times.