Comcast Anounces iPhone App
Comcast is introducing an iPhone application that will allow customers to plan what they're going to watch on TV, forward calls from their VOIP lines and manage voicemail. I got really excited when I saw that Comcast was going to have an iPhone application because I wrongly assumed that it would allow subscribers to access full-length videos while on the go, but video is limited to on-demand movie trailers.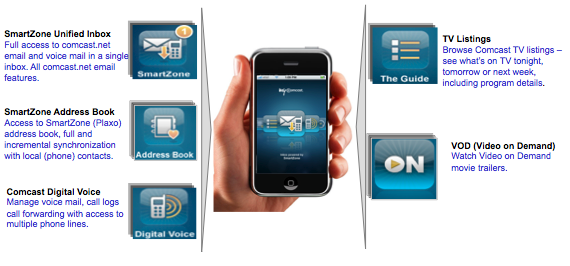 Those who use Comcast email will be able to access their inbox and address books from the Comcast iPhone application.
The one feature I can see myself using with this application is being able to set call forwarding. I'm a Comcast triple-play subscriber because having Voice+Internet+TV service is actually cheaper than just having TV and Internet. I probably log about 2 minutes per month on my VOIP line and it's almost always my one uncle who keeps forgetting that I have a mobile phone.
iPhone and iPod Touch users can download the free Comcast application by searching in iTunes or visiting the application's page on Comcast.net.
Read, reply, forward and compose email as well as read attachments supported by the iPhone.
Manage voice mail messages and call logs, view voice mail in any preferred order as well as ""touch" to call.
Forward home phone calls to the iPhone from the iPhone, view call history and manage home phone settings.
See what's on TV tonight, tomorrow or next week, including program details.
Watch Video On Demand movie trailers.
Synch all Universal Address Book contacts to an iPhone or iPod touch as well as the ability to add pictures to favorite contacts.

As an Amazon Associate I earn from qualifying purchases.