Comcast's Latest Offering Bundles HBO, Broadband Together for Cord Cutters
Looking to dump your cable TV subscription to save money as you may not watch many of the channels that come with your television package? Comcast heard you loud and clear and is introducing a new Internet Plus package that essentially brings an early vision of IPTV, or television over Internet, by combining HBO Go and home broadband services together. For $40 a month for the first year–after that it jumps to $70–customers in select markets will get 25 Mbps home broadband speeds, a selection of 45 local channels to choose from, and a subscription to HBO and HBO Go for streaming content from the premium cable channel.
This package essentially allows many to enjoy content from HBO, streamed over a speedy Internet connection, and not have to pay for a full cable package that would be far costlier. It's also a new approach by a cable TV service provider to provide customers with innovative and legal ways to watch content from HBO while competing with other services, such as Apple TV, Amazon's Video on Demand, Netflix, and others. This may be the first time that HBO service is offered at a la carte pricing separate from an expensive cable TV package with multiple hundreds of channels.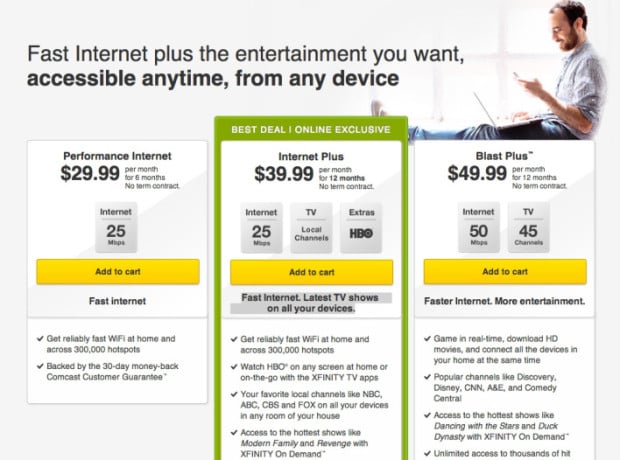 The service is being reported by GigaOm and given that an HBO Go subscription is also thrown in, customers can also stream and watch HBO content on their mobile devices, including phones and tablets.
The service is not available widely yet and though it's limited to select markets, Comcast says that to take advantage of the rate, customers will need to act by January 31 so you still have some time to switch over to this package.

As an Amazon Associate I earn from qualifying purchases.