Best Buy Needs to Treat Customers Better
When I recently heard a story from a Best Buy shopper I thought someone needed to give a "Come on man!" award (modelled after one of my favorite bits on ESPN's NFL coverage where host Christ Carter calls out horrible plays or situations) to Best Buy for what they did to this poor Christmas shopper.
While at my local Staples I met Jake, who was asking the Staples store clerk if they had any white laptops. I thought it was a strange request, and being the technology lover I am I eavesdropped on the conversation. I wanted to know why it had to be white. Turns out that's what his girlfriend wanted for Christmas. She bought him a nice laptop earlier in the year and he wanted to return the favor. The only requirement, besides "not sucking", was that it be white.
Staples didn't have any. To their credit, they started searching websites of their competitors, looking to see if any of the nearby office stores had any white notebooks in stock. Nada!
The kind behavior from the clerks was truly a Miracle on 34th Street Macy's v. Gimbels moment. Since they were already suggesting other stores, I chimed in with a suggestion that Jack check out Best Buy. I had been there earlier in the week and I saw a couple of white notebooks from Sony and Samsung that didn't suck.
"Don't even go there, man!" Jack replied. And then told me how he purchased one online from Best Buy and selected their in-store pickup. This was at 7:45 am that morning. He even pulled out his Blackberry to show me the confirmation email. "You see. It says don't come right away, because it takes 45 minutes to get the order and take it off the shelf." So he waited till he was finished with other things and showed up after 2 pm. Instead of taking the white notebook off the shelf and having it ready at the customer service desk, they had sold it to someone else.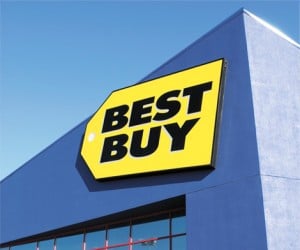 They guy was more understanding than most, and willing to forgive if they helped him out. They had another white one for $150 more and he just wanted some kind of discount to make it right. The manager wouldn't budge.
As ESPN's Chris Carter would say: "Come on man!"
Like the shopper, I get that Best Buy makes mistakes and can't give away laptops. But a $50 discount was the difference between this guy bragging about Best Buy versus complaining to me. What's worse, he's a Best Buy Premiere Silver Rewards Customer. That means he had to spend at least $2500 in one year. The laptop the girlfriend bought him came from the same store. Not only were they treating a customer badly, but he was one of their best customers.
Sadly, this Hickory Best Buy store did something just like this earlier this year during the iPad 2 sales fiasco when someone in line with me had the iPad 2 they reserved sold out from under them to someone ahead of them in line who decided to get two. At least that manager tried to make it right with some freebies.
I shop in that store a lot and have always been treated well. In fact I've even gotten better than expected treatment. So I know they're capable of a better job than that!
The story ended well when I told Jake that he could likely find the laptop he needed on Amazon, and if he signed up for Prime membership he could get it in time. He decided to go home and do just that. I'll bet he won't be spending another $2500 in 2012 at Best Buy.
The moral of the story isn't "don't shop at Best Buy." You should probably get your purchase picked up as soon as possible. But you also shouldn't have to settle for a store doing something like this and then also not doing something to make it right.
By the way, if you've never seen the ESPN "Come on!" bit, here's one of the best ESPN "Come on man!" awards this year: