10 Common Galaxy Note 7 Problems & How to Fix Them
The Galaxy Note 7 is one of Samsung's best phones ever, but it's not perfect. While it has tons to offer and is their most capable phone to date, some users have already started reporting various small Galaxy Note 7 problems, or issues with odd settings out of the box. With that in mind here we'll be explaining a few potential Note 7 problems and how to fix them.
On August 2nd Samsung unveiled the new Note 7 after months of rumors, and skipped the Galaxy Note 6. It was released on August 19th with a big 5.7-inch Quad-HD display, a microSD slot for storage expansion, water-resistance, a new Iris eye scanner for improved security, double the internal storage and lots more to make it one of the best and most premium Android phones around.
Read: How to Fix Bad Galaxy Note 7 Battery Life
However, if you're experiencing a few random Galaxy Note 7 problems or bugs we may have a solution or two. As the year continues and more users buy one, others will surface and we'll continue to update this with the latest information. For now though, read on for some helpful tips and suggestions to get the most out of the Note 7.
So far we're not seeing anything major in terms of problems with the Galaxy Note 7, and our two units here are running flawlessly. We aren't the only people with one though, and some are reporting various WiFi issues, battery life is a complaint, screen bleeding, laggy performance, a stuck S-pen, charging speeds that aren't as fast as expected and even some camera "crash" failures. These Galaxy Note 7 problems are few and far between, and we'd still recommend this phone to almost anyone, but we'll touch on all of them for good measure.
Samsung states that they had one of the best releases in history. The phone was ready for a global release right on time, inventory was good enough for a UK release, all major carriers have the phone and they're even offering some impressive Galaxy Note 7 deals for the first few weeks it's available.
With the Galaxy Note 5 there was a big issue with the S-Pen stylus getting stuck, which Samsung fixed, but we're still seeing a few complaints about that. However, it's mostly user error from people pushing it in too hard, or purposefully putting it back in the wrong direction. Don't let that all worry you, the Note 7 is Samsung's best yet and if you do have any small issues we'll fix them below.
Again, the Note 7 has only been available for a short while, and we expect more information to surface in the coming weeks and months. For now though, these are the problems we're hearing about.
Galaxy Note 7 WiFi Problems
For whatever reason with each new phone there are WiFi problems reported, which is often just the user or their network and router, not the phone. That aside, we have seen a few owners mention slow WiFi performance, drops, or slow speeds. The WiFi and Bluetooth together issues the S7 faced are gone, so that's a good sign.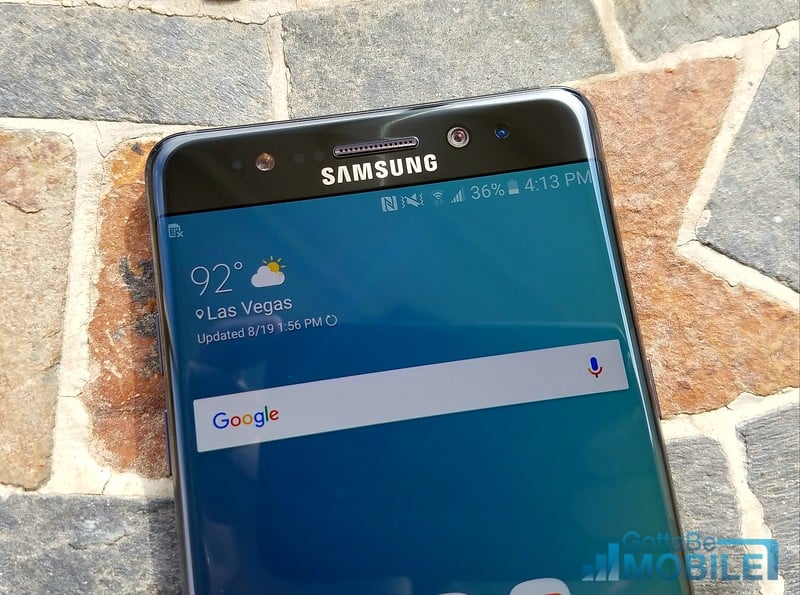 Our suggestion would be to make the phone forget the WiFi network you're tying to use, and reconnect. Head into settings > connections > WiFi and long press to forget your wireless network. Then reconnect, put in the password, and it should be better. Also, it's always a good idea to reset the home router or modem.
Galaxy Note 7 Bluetooth Problems
As usual, there are also a few complaints about Bluetooth and those trying to use Android Auto. Everything from regular car stereos, Android Auto, 3rd party accessories and other things.
This happens on occasion with most devices, and is quickly fixed by software updates or simply repairing a bluetooth device to your Galaxy Note 7. For one, unpair and repair any device trying to use Bluetooth, as that could fix it. And if any "permissions" appear during this process make sure its set to allow. Owners can also head into permission controls in settings and make sure they didn't deny access to certain apps.
One quick trick that typically has fixed Bluetooth problems is also worth trying. Pull down the notification bar and hit the gear-shaped settings button up top. Then in settings head to Applications > Application Manager > More and find an app called Bluetooth Share. Select this and tap "Force Stop" or clear the cache. Then turn Bluetooth off and back on again. I have Bluetooth problems here and there, and turning off and back on the device, the Note 7, or the Bluetooth option typically fixes it.
Galaxy Note 7 Camera Failure
If you see "Warning: Camera Failed" when trying to use the camera, don't be alarmed. This could be from 3rd party apps with access to the camera like Snapchat or Instagram, or countless other things. It isn't anything to be concerned about though.
Like the Galaxy S7 Edge the new Note 7 has an excellent 12 Dual Pixel camera that takes great photos. Double tap the home button to instantly fire it up. If you see the error above, it's probably because a software feature called Smart Stay. This keeps certain things on the screen while eyes are viewed from the sensors in the phone, but it can cause the camera to act up. I'm not seeing this, but we've seen it reported once already.
Head to Settings > Advanced Features > and turn off Smart Stay, and then try the camera again. If it still doesn't work try heading into settings > app manager > and force stopping the camera application. Next owners can reboot the phone, or do a hard reset by holding down power and the home button for 7 seconds.
Disable Always-On Display
Samsung has a new feature on the Note 7 called an "Always-On Display" which you've probably noticed because the screen never completely turns off. There is information like the clock, date, time, battery life and some notifications. It's an awesome feature, but the constant moving to keep the screen fresh is a distraction that some have been complaining about. Personally I love it, but if you want to disable it, here's how.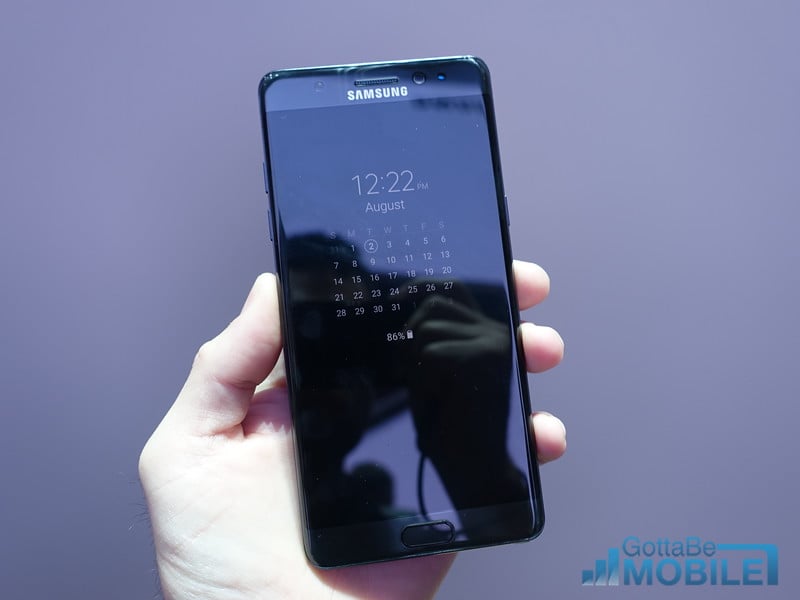 Simply disable the always on display feature by heading into Settings > Display > Always On Display > and Turn it off. Now the screen will go black and turn off when not in use. Another idea would be to customize the AOD or add a "sleep time" so it only functions during the day and not at night, which could solve the problem some are having with it being too bright.
Note 7 Speaker Issues
Many users are probably testing out the new IP68 dust and water resistant rating of the Note 7, or have already had an accident. The phone can be submerged in over 5ft of water for more than 30 minutes, and the S-Pen stylus works under-water too. It's an impressive feature, but it does cause the speaker to get wet and it could sound funny until fully dry.
There are no flaps or seals covering the speaker, charging port or other things, and that means water can get inside the device. Surface tension and a nano-coating keeps it safe, but shake out any water first so the speaker sounds good, and charging can be done safely. Don't use it while it's dripping wet. That's common sense.
Some users have reported the speaker doesn't sound right, but if that's after testing the water resistant features, tap it against a desk or your hand to get any leftover water out of the insides.
Stuck S-Pen
Yes, we're dealing with this "problem" once again somehow. A few sites are reporting that the S-Pen can get stuck. Last year users were putting it in the wrong way, which I'd call a user error more than a Samsung problem, but the company fixed it anyways on later batches of the device.
Apparently some users are putting it in the wrong way again, and there's something inside to prevent it from sliding in and getting stuck. But not all humans are smart, and some are pushing too hard, getting past this, and well, what did you expect to happen? We also saw one video of an owner putting it back the correct way, but pushing a bit too hard, and the clicker getting stuck too. While this is unlikely, get a replacement S-Pen from Samsung, or buy an extra. They have a lot of official accessories including an extra stylus. Pay attention and put it back the way it's supposed to go, and everything will be fine.
Galaxy Note 7 App Tray
The new UX (User Experience) software on the Note 7 is some of Samsung's best yet and very refined, but the app tray still does something everyone hates. We'd call this more an inconvenience than anything, but apps aren't in order and are out of place. Newly installed apps are at the end of the list, not in alphabetical order.
Hit the bottom right icon to open the application tray, then tap the 3-dot settings button at the top and select "A-Z" and then tap save. This will list apps alphabetically, they way it should have from the beginning, and make finding apps easier. The next time you install an app though, you'll have to do it again.
Galaxy Note 7 Charging & Getting Hot
With high-end specs under the hood and an all metal design these phones can get hot while using the Gear VR, gaming or even while sitting on the charger. It's nothing to be alarmed by, but something we hear often from users. There could be a few causes though.
Of course thanks to the USB Type-C cable and faster charging technology it will get warm, so don't play games while it's charging if you don't want it getting hot. Like Pokemon Go. Even if it does, there's nothing to worry about.
The Note 7 uses a new fast charging technology that puts out a lot of power, but if the heat is a concern for you there's always a way to disable fast cable charging. However, then it will take over 2 hours to recharge, instead of charging super fast. Head to Settings > Device Maintenance > Battery > Advanced Settings and turn off fast cable charging. We wouldn't recommend this, but do what you want.
At the same time, if the phone isn't charging very fast make sure you're using the included USB Type-C cable (or a good quality Type-C cord) and the wall wart that came in the box. It's a specific "adaptive fast charger" and an old charger that was in the wall from prior years may not charge your phone at optimal speeds.
Reboot the Galaxy Note 7
With smartphones we hear about problems from text messages not working, apps crashing, glitches, stutters and more. Most of this shouldn't happen on a powerful new phone like the Note 7, but almost every little problem can be fixed from a good old-fashioned reboot. And yes, an older Uncle of mine didn't understand what that meant.
Reboot the phone by long-pressing the power button, and hitting "restart". It will quickly turn off and restart back up and be running as good as new. Again, this fixes almost all minor little problems some users may see.
Galaxy Note 7 Factory Data Reset
A last resort to fix any lingering problems or issues is a factory data reset. This typically fixes any major issues, software problems and more, and reverts the phone to stock out of the box software. That means it will erase everything. Everything, so be careful and save any photos, texts, or things you want to keep.
If your Note 7 isn't acting right we'd recommend maybe taking it back to the store you bought it or seeking a replacement, or try a factory data reset before going through the hassle of getting a replacement.
Start by going to Settings > Accounts > Backup & reset > Factory data reset > and Reset Device. This will take a few minutes to reboot and install the stock factory software and erase everything, then reboot to a clean slate for owners to start over. Making the Note 7 as good as new again.
Again, we're not seeing too many complaints or reports about Galaxy Note 7 problems, but that doesn't mean they don't exist. As the phone is attained by more users we can expect others to surface. Once they do, we'll update with more information and how to fix them. If you are having an issue drop us a comment below. Buyers can also expect monthly security updates and a big upgrade to Android 7.0 Nougat in the coming months. Stay tuned.

As an Amazon Associate I earn from qualifying purchases.