3 Common iMessage Problems & How to Fix Them
While iMessage is one of the most-used services for iOS users, it's definitely not without its problems. Here's how to fix the most common iMessage problems.
iMessage has changed the way that many people communicate with their family and friends on a daily basis. With iMessage being available on any of your iOS devices, it makes it even more convenient to use.
We've discussed many other common problems with Apple products in the past, but iMessage is something that deserves some attention as well, considering that many users come across all sorts of problems with the messaging service.
One of the biggest issues that we've seen with iMessage deals with when iOS users switch away from Apple's platform to move to another smartphone platform altogether, resulting in some text messages not being sent to the new device. This was a huge problem for several years, but Apple recently released a fix for it.
If you've been having trouble with iMessage lately, or are just preparing for those inevitable problems to arise, read on to learn how to fix the most common iMessage problems on the iPhone and iPad.
How to Fix iMessage Connectivity Problems
A very common problem with iMessage is that messages may not properly send or get received, even when you have good service.
First off, you'll want to check Apple's System Status site to make sure that iMessage isn't down. If it is, then the problem isn't on your end, but if iMessage appears all systems go, then it's on your end.
If you ever come across a message that you're trying to send, but it simply won't send even when you have an adequate WiFi or data signal, try turning off WiFi and LTE and turning it back on again, or reboot your iPhone or iPad. This usually fixes the trick, but if not, there are some other things you can try. You can turn off iMessage and turn it back on, which sometimes does the trick. Go to Settings > Messages and toggle iMessage off and back on.
If that doesn't work, go into Settings > Messages and turn on Send as SMS. This will send a message as a regular text message if iMessage can't send it as an iMessage.
If that still doesn't fix it, it's time to reset your network settings. Go into Settings > General > Reset > Reset Network Settings. This will wipe all of your network settings, so you'll have to re-enter saved WiFi passwords, but it just might fix the problem.
How to Fix iMessage Syncing Problems
If you're receiving iMessages on your iPhone, but not on your iPad or other Apple device, then there's a problem with the syncing. Here's how you can fix it.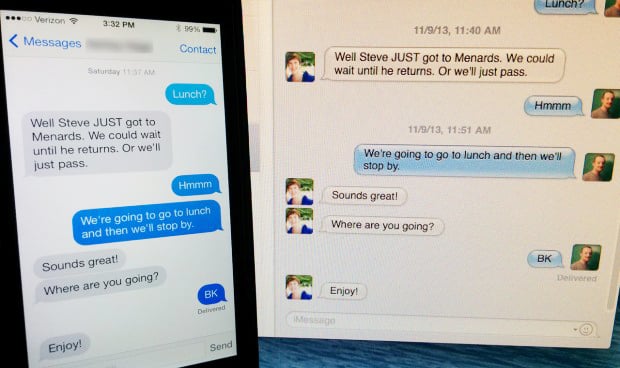 It's possible that you're not setting up iMessage properly, which is why the service may not be syncing up correctly. Head to our guide on how to set up iMessage and see if that fixes the problem.
If you're still having problems, a quick fix is to disable iMessage on all devices that have iMessage, and then re-enable it on each device one at a time. To do this, go to Settings > Messages and toggle iMessage off on all of your devices. Then go back to each device and turn iMessage on.
How to Fix iMessage Problems When Switching to Android
A major issue with Apple's iMessage service is that many users have issues with their own phone number correctly transferring to a non-iPhone smartphone when they switch devices, leading to problems with text messages getting to the recipient. However, Apple has finally released a tool that allows users to deregister their phone number with iMessage.
When you switch to Android or other non-iPhone platform from an iPhone, your phone number is still registered with iMessage, so any iPhone user who texts you will get a "Delivered" message, but you will never end up actually receiving the text message, because your phone number isn't completely transferred over to their Android device.
This is obviously a huge problem, and Apple has known about the issue for awhile, but never had a solid fix until now.
The company launched a web tool that allows you to deregister your phone number with iMessage, that way you can begin using it again on Android, Windows Phone, or other non-iPhone platform.
The web tool consists of two methods for deregistering your phone number with iMessage. First, if you still have your old iPhone, the tool tells you to temporarily transfer your SIM card to the iPhone and then turn off iMessage.
However, if you no longer have your old iPhone, the web tool allows you to enter in your phone number and Apple will deregister it for you.

As an Amazon Associate I earn from qualifying purchases.