Compass 2 for iPad Stand: Review
Twelve South makes some nicely designed products. One of those products was the original Compass stand for the iPad. What I liked about the Compass was that it was a tripod or easel stand that collapsed into an easily totable size that fit nicely into a gadget bag or a pocket. It was my favorite stand for the iPad. Until the iPad mini came along. While the iPad mini fit nicely on the Compass in landscape mode, the spread of the main two legs made it tricky to hold the iPad mini's smaller frame in portrait mode.
Now Twelve South has released the Compass 2 for the iPad and that problem has been solved. The Compass 2 features the same collapsable tripod design but the front two legs are not spread as wide when extended, allowing the iPad mini to fit nicely in either portrait or landscape mode. Of course it works just as well for a full sized iPad, and also for other Tablets from other makers.
The Compass 2 is made from heavy gauged steel and there is a nice long cloth pouch for you to tuck the collapsed stand into for travel.
Read: Compass Mobile Stand for iPad
The other big difference between the original Compass and the Compass 2 is that the fold out arms that hold your iPad are a bit higher set on the legs of the device.
The hinge construction feels good and solid so whichever way you choose to display your iPad you've got a solid easel for it to sit on and be touched and tapped without worrying about knocking it over.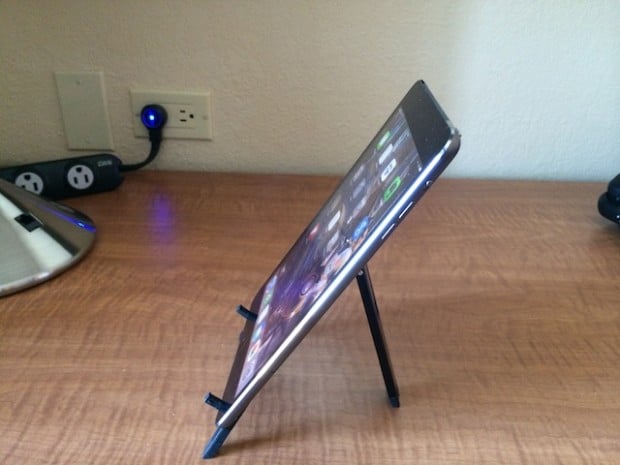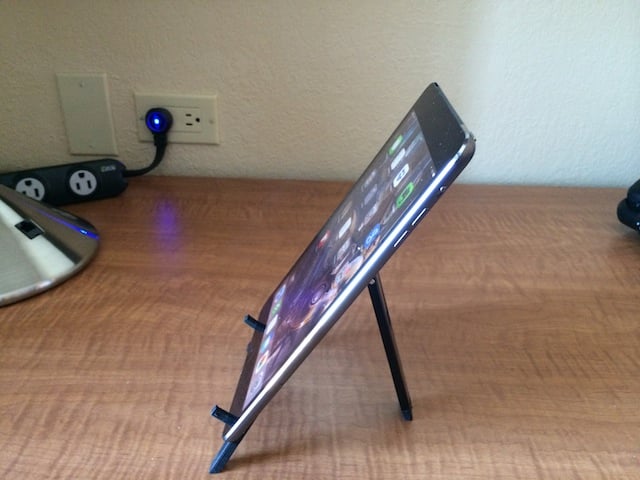 Like the original Compass, the Compass 2 has a flip out arm on the shorter of the three legs, that allows for a lower angle to rest your iPad on that is suitable for typing on the iPad's virtual keyboard. This works well enough as designed.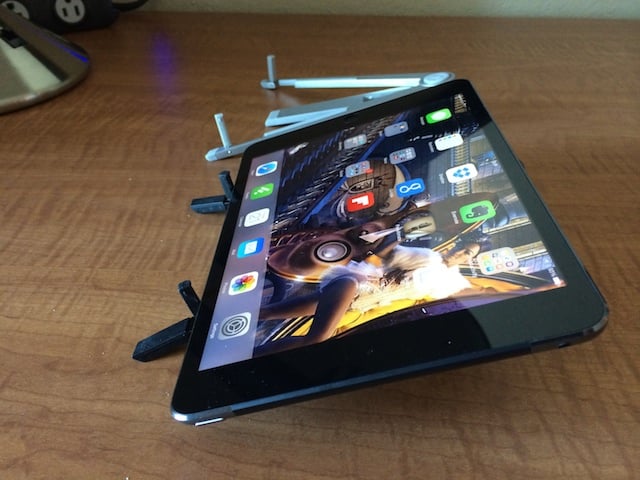 The Compass 2 is available from Twelve South and also at Apple stores for $39.95. It comes in black, red, or sliver. Like its predecessor, I enjoy the build quality, the flexibility, and also the portability of the Compass 2. Toting it with an iPad mini in a coat is an excellent mobile tag team when you're out and about.
But there is one note to make. Like the original Compass, be aware that if you are taking a plane, you may have to pull out the stand when you pass through security. Apparently it looks like something dangerous when it passes through the x-ray machines. This has happened to me twice.