Computerworld: Windows 7 'refreshes' an old UMPC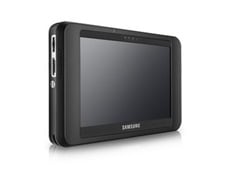 Computerworld posted a rundown of low-end and older PCs tested with Windows 7. On the list is an old ultra-mobile PC, and by "old", I mean a Samsung Q1 from way back in 2007. It's the second newest machine on their list, right before a year-old Dell Inspiron Mini 9 netbook. Still, it's not like we don't know ultra-mobiles are slower by necessity. I'm just glad to see some variety on the list.
Testing was reported by Ivan Golubev, a Windows and SQL database administrator. Key quote for me?
Recommend Windows 7? "Yes. It's nicer than Vista, faster than XP — almost a dream OS."
This lines up with previous reports we've seen around the mobile computing scene, such as in the forum and a report last year from Ian Dixon, and the whole list confirms my belief that Windows 7 is simply more efficient all-around. Still, I'm pleased to see news on a UMPC make it outside the niche.
More details on his setup in the article. One more thing: he suggests installing from a flash drive, a piece of advice I picked up from the comments to Warner's time-intensive Windows 7 installation story. I think I may be starting to hear my old Tablet PC cry out for Win7.