Confusing Google Drive iOS App Update Giveth and Taketh Away
Automatic Update for Apps on mobile devices is a function many cherish and some stay away from. The benefit is that your Apps get updated automatically. One of the downsides is that sometimes those updates take away features before you've had a chance to see what's up with the update. Google demonstrated that today with an updated release of Google Drive for iOS.
In addition to bringing a nice new feature, the updated Google Drive App now no longer lets users edit their Google Docs or Google Sheets within the App. Instead, if you're looking to make an edit you're prompted to download the new Google Docs or Google Sheets App for iOS. Those new stand alone Apps were both just released yesterday. As of this writing, a similar update for Google Drive has not been pushed through for the Android platform, but the two new Docs and Sheets Apps did appear on that platform yesterday.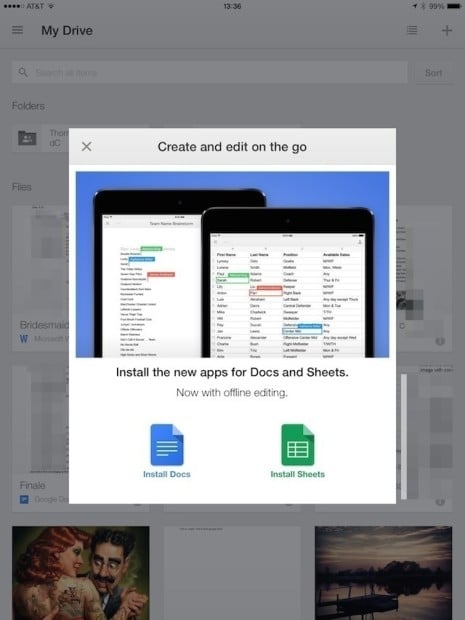 Before discussing the ramifications of needing the new Apps to edit documents, let's first take a look at the new feature that Google added to Google Drive with the update. It's called Passcode Lock and it let's you assign a 4-digit passcode to your Google Drive to secure its contents.
You can find the new Passcode Lock feature under Settings. Each iOS device with Drive installed can have a different passcode.
Once you set a password, you'll supposedly need to enter that passcode before getting access to the file interface. I say supposedly, because even after closing the App and restarting an iPad Air, I'm still able to access documents stored on Google Drive without having to enter a passcode, so I'm not sure what the timing mechanism is before the passcode is required. You can enable Always Lock in settings to require the passcode anytime the App is opened.
Since you can set a different passcode for each device, the feature is designed to protect unwanted access to your Google Drive documents from a particular device and not across multiple devices using Google Drive. Enabling Passcode Lock in Google Drive will also enable it in the newly released Google Docs and Google Sheets.
No More Editing in Google Drive
As mentioned above, the new update to Google Drive also removes all editing functionality from within the App. If you tap the familiar pencil icon you'll be prompted to download and use Google Drive and Google Sheets to edit your documents. In fact if you open the updated Google Drive App you'll actually get an advertisement for them, if if you've already installed them. (Pictured earlier in this post.)
To say Google has created a confusing situation would be accurate. A user looking at the update page for the Google Drive App will see a statement saying "Plus: Look for new Docs and Sheets apps in the App Store."
That ad mentioned previously also makes no mention that this is a requirement. Certainly the requirement to use the new Apps for editing could have been spelled out more clearly.
Splitting out the editing functionality from Google Drive into the new Apps certainly seems odd given that fundamentally there are no new or different editing features offered in the new Google Docs and Google Sheets standalone Apps. Some users won't appreciate having to download the new stand alone Apps to replace previous functionality, especially limited functionality.
That is also certainly the case if it results in a loss of functionality. Perhaps it is just me, but there is some new and confusing behavior when working across multiple devices in this new multiple App system. New documents saved to Google Drive from either Microsoft Word or Microsoft Excel on a MacBook Pro will show up in the Google Drive App. Those documents can be opened and viewed. But they do not show up in either Google Drive or Google Sheets, unlike Word and Excel documents that were stored in my Google Drive prior to these new stand alone Apps and the Google Drive update. It is almost like these new documents created on another non-iOS device are orphaned somehow.
Given that the Google Drive App does not tie in with the Open-In functionality in the iOS operating system, it just seems strange that it is possible to open those "orphaned" documents in Word for the iPad or Pages, and not the new Google Pages App.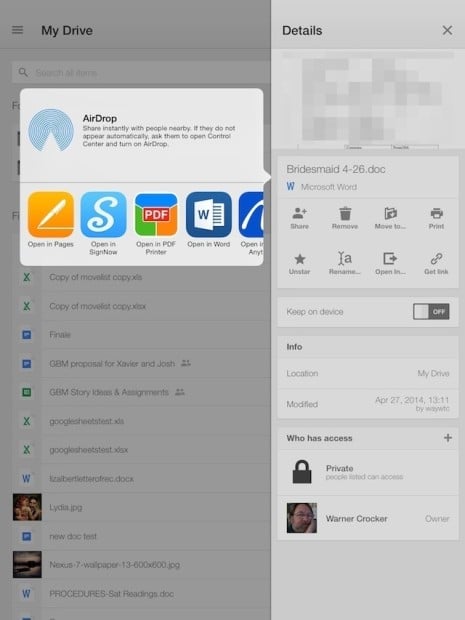 Is Google restricting functionality and accessibiltiy to documents created within the new Apps or only those previously stored in Google Drive? Without any clear indication or explanation, it sure feels that way. Which is odd, given how Google Docs led the way in cloud based multi-device support with its web interface.
I'm not sure if this is just a sloppy and hasty roll out by Google in its headlong rush to compete with Microsoft and Apple for your document storage and editing needs, or if it is just bad coding. Either way, Google has created a confusing set of circumstances for iOS users without any benefit of explanation. Given that one of the appeals of the Google Docs experience is its simplicity compared to its competitors, Google has somehow managed to bungle that simplicity with these latest releases.

As an Amazon Associate I earn from qualifying purchases.