Confusion on the HP Mini 1100 with ExpressCard Slot
Hmm? Looks like there is some confusing info about what we reported about   the HP Mini 1100 models with an ExpressCard/54 slot this morning. According to Obsessable.com, these may or may not be a new model, (thus the 1100 series designation) and they may or may not have ExpressCard/54 slots.
Yeah, I know. Like I said confusing. Especially since the product pages for the 1133CL, 1135NR, 1140NR, and the 1141NR are still up and all showing the ExpressCard/54 slot. (see the screen shot after the jump.)
According to the Obsessable report, they heard from what they are calling ""supposed company representative" who says the 1100 models are actually a part of the 1000 series and that they did not contain ExpressCard slots. According to CrunchGear the products don't exist and this is a website error. They quote the following:
We don't offer a model within the HP Mini 1000 series that has an Express Card slot. There was an error made on our website which is being corrected. But for those customers interested in an HP Mini with an Express Card lot, we do offer the 2140 of course!

I know this is confusing, but the 1100 models are simply other SKUs within the 1000 series, and differences within the various SKUs can be things like panel size, hard drive, etc., you know? (Though the info on our support website looks a little misleading because it makes it sound like the 1100 is a completely separate/new series.)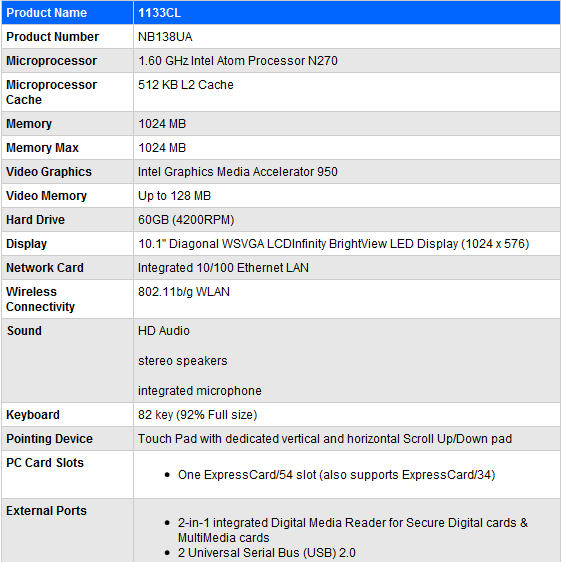 As an Amazon Associate I earn from qualifying purchases.