Congratulations to Jeff Pollard, MindManager 8 Winner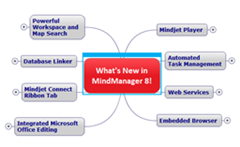 We had some awesome entries for our MindManager 8 giveaway. They all clearly showed how indispensible MindManager is to mobile users, and how the new features like embedded browsing and embedded editing are to the research / brainstorming process. Picking a winner proved very difficult and basically came down to randomly choosing among my ten favorite entries. Congratulations, Jeff Pollard! You are now the proud owner of a MindManager 8 license!
Stay tuned for an in-depth look at the new features in MindManager 8. I should have my InkShow review ready by tomorrow afternoon.