Connectivity Comes at a Premium on Galaxy NX Camera U.S. Pricing
Samsung has finally released pricing information for its mirrorless smart camera system known as the Galaxy NX, a photography tool aimed an prosumers and enthusiasts that's based on Google's Android OS and comes with interchangeable lenses. Unlike the existing Galaxy Camera sold in the U.S. and the international Galaxy S4 Zoom, the Galaxy NX's more professional features set puts that device in the sane league as more entry level DSLRs rather than the point-and-shoot market.
In the U.S., Samsung announced that in October, the Galaxy NX would be available for a price tag of $1600 for the camera body alone or $1700 with a kit lens that offers a focal range of 18-55mm for zooming. Once users buy more lenses of different kinds for different photographic needs, the price would quickly add up, but the camera offers a lot of flexibility for different photo situations and the cost of lenses in general would still be less than the cost of a standard DSLR lenses.
The camera itself represents over a 100 percent premium on a non-smart version of Samsung's high-end mirrorless camera with interchangeable lenses, which could limit the success of the Galaxy NX unless consumers require Android on the camera along with 4G LTE connectivity for ubiquitous mobile Internet connectivity.
The closest non-Android competitor to the Galaxy NX in Samsung's lineup is the Samsung NX300 camera, a device that does come with WiFi and NFC support for pairing with the phone or tablet, and using the mobile device's display as a high resolution viewfinder and to transfer photos. The NX300 lacks the 4G LTE modem, quad-core ARM processor, and Android operating system that the Galaxy NX possesses, though both devices are said to have a similar photographic performance.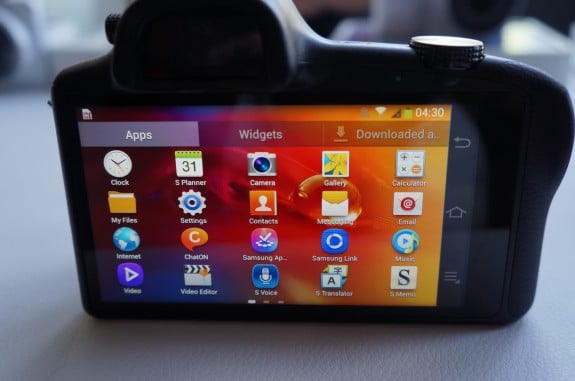 The NX300 retails for just under $650 on Amazon today with a similar kit lens, down from the $750 launch price. All the "smarts" on the NX represents a 2.6 times price increase using today's pricing of the NX300 when compared with the Galaxy NX's $1700 kit price.
Some of the features that Samsung is boasting with the Galaxy NX include micro SDXC card support (rather than standard SD format on traditional cameras), 20.3-megapixel APS-C size sensor, Advanced Hybrid Autofocus, 4.8-inch 720p touchscreen, an electronic viewfinder, and a 1.6 GHz quad-core CPU.
The camera also supports TouchWiz UI on top of Android along with tools that will suggest locations to take good pictures, a gimmicky feature that could come in useful when traveling to a foreign city.
The Galaxy NX will also be competing in the same market as Sony's novel interchangeable lens system for the Honami Xperia Z1 smartphone that's expected to be announced on September 4th.